TV One's News One Now Honors The Late Grammy Award-Winning Singer Natalie Cole
Celebrities Join Managing Editor and Host Roland S. Martin In Celebration and Tribute to Icon's Life
Jo-Carolyn Goode | 1/4/2016, 2:36 p.m. | Updated on 1/4/2016, 2:39 p.m.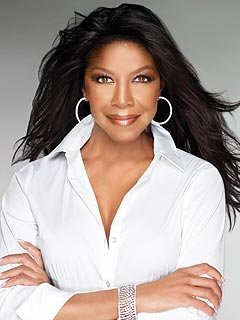 WASHINGTON, D.C. – JAN. 4, 2016– TV One's New One Now, the only daily news program targeting Black viewers, took the beginning of their show to honor the legacy of Grammy award-winning singer Natalie Cole on Monday, Jan. 4th (7-8 a.m. ET). American singer and songwriter, Cole passed away at the age of 65 on Dec. 31, 2015 in Los Angeles, CA. Celebrities such as R&B Soul Singer Aretha Franklin, Gospel Artist BeBe Winans, and Jazz Musician Terri Lyne Carrington joined News One Now host and managing editor Roland S. Martin to celebrate and pay tribute to Cole's life work and contributions to American music. News One Now also showed a clip of our Founder Cathy Hughes interviewing Cole in 2006 from TV ONE'S archives.
Martin and guests reflected on Cole's numerous milestones and achievements, including:
Natalie Cole rocketed to stardom in 1975 with her debut album, Inseparable, earning her a #1 single, "This Will Be (An Everlasting Love)" and her first two Grammy® awards for Best New Artist and Best Female R&B Vocal Performance.
In 1979, Cole was awarded a star on the Hollywood Walk of Fame.
Cole marked a career milestone in 1991 with the release of Unforgettable…With Love, featuring the celebrated duet with her late father, Nat King Cole. The album spent five weeks at No. 1 on the pop charts, earned six Grammy® awards, and sold more than 14 million copies worldwide.
In 2001, she starred as herself in "Livin' for Love: the Natalie Cole Story," based on her autobiography, Angel on My Shoulder, which detailed her harrowing drive to overcome drug addiction. She received the NAACP Image Award for Outstanding Actress in a Television Movie, Mini-Series or Dramatic Special. As an actress, Natalie starred in director Delbert Mann's "Lily in Winter" and co-starred with Laurence Fishburne and Cicely Tyson in Walter Mosley's "Always Outnumbered
Before her death, Ms. Cole served as a spokesperson for the University Kidney Research Organization, a nonprofit organization supporting medical research related to the prevention, treatment, and eradication of all form of kidney disease.
TV One's News One Now continues its commitment to honoring the legacy of notable African Americans with its special time to celebrate Cole. Previously the news program paid tribute to Maya Angelou, Ruby Dee and Nelson Mandela.
ABOUT NEWS ONE NOW:
Emanating from the heart of Washington D.C. in a state-of-the-art studio that offers a stunning view of the Capitol building, News One Now airs Monday through Friday on TV One from 9-10 a.m. ET. News One Now is hosted by Roland S. Martin, the 2013 National Association of Black Journalists' Journalist of the Year and former host of TV One's long-running, award-winning weekly news program, Washington Watch with Roland Martin. Each morning, Martin – who also serves as the program's managing editor – sifts through the headlines of the day to spotlight matters that greatly impact the African American community. Beyond radio and television, News One Now reaches audiences 24/7 with exclusive program content and extended editorial on NewsOne.com and the NewsOne mobile app. News One Now is an evolution of Interactive One's award-winning digital brand NewsOne.com that launched in 2008 and reaches millions of African Americans each month.
ABOUT TV ONE:
Launched in January 2004, TV One (www.tvone.tv) serves 57 million households, offering a broad range of real-life and entertainment-focused original programming, classic series, movies and music designed to entertain and inform a diverse audience of adult Black viewers. The network is the exclusive home of News One Now, the only live daily news program targeting Black viewers. In December 2008, the company launched TV One High Def, which now serves 14 million households. TV One is solely owned by Radio One [NASDAQ: ROIA and ROIAK, www.radio-one.com], the largest radio company that primarily targets Black and urban listeners.