Local Schools to Be Showcased for 'Hear the Future: Annual Invitational School Choral Festival'
Three outstanding local school choirs to be showcased for 'Hear the Future: Annual Invitational School Choral Festival'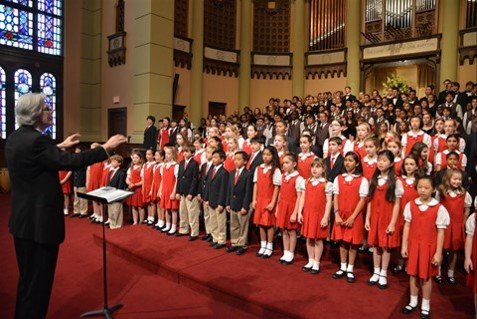 Houston Chamber Choir presents Hear the Future: Annual Invitational School Choral Festival with four Houston-area schools on Sunday, January 31st at 4:00pm at Grace Presbyterian Church, 10221 Ella Ln Houston, TX 77042. The program is a selection of sacred and secular choral works blended together with fresh young voices. Concert admission is free.
Hear the Future pays tribute to the essential work done by outstanding choral music educators, and their excellent choirs, in our region. Concert-goers are invited to come enjoy an afternoon of music and Hear the Future- it has never sounded brighter! A highlight of the Houston Chamber Choir season, this annual invitational school choral festival showcases four outstanding choirs from our region. This year's invitees are the Cypress Ranch Chorale of Cypress Creek High School, under the direction of Cynthia Douglas; the Longhorn Choir of Nolan Ryan Junior High directed by Jennifer Gallagher; and the Parker Elementary School Choir directed by Marianna Parnas-Simpson with the Rusk School Choir.
In addition to this concert, Houston Chamber Choir helps support music education all year round through The Rusk School Residency: a program committed to launching young students on a life-long journey of music appreciation with a targeted, long-term residency at one of the nation's most economically challenged elementary schools: The Rusk School. In the context of a fast-paced and encouraging group rehearsal Rise Up Singing! brings weekly ear training, music history, and vocal instruction to students in grades 3-5 while introducing them to classic American folksongs. Artistic Director; Robert Simpson, Monica Isomura; Rusk School Program Coordinator and Choir Member, along with Choir Member; Stacey Franklin lead the rehearsals. For more information, please contact the Houston Chamber Choir. More information at www.HoustonChamberChoir.org or by phone at (713) 224-5566.