Jack Daniels Tennessee Honey brings Art, Beats and Lyrics to Houston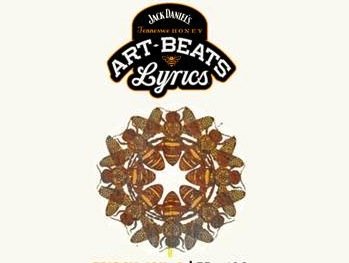 When art and hip-hop combine, something truly sensational takes place. The Jack Daniels Tennessee Honey brand brought Houston a night of live music, art, entertainment and delicious Jack Daniels-inspired cocktails with their Art, Beats and Lyrics show. Famous urban artists were able to showcase their art through an extraordinary exhibit that captivated several viewers of the night. The multi-city tour has been traveling for 11 years, and has grown to be one of the most sought after "lifestyle events" throughout the country.
This event featured urban artists Dubelyoo and Houston native Zach Murray, among many others. Dubelyoo, the co-creative mind behind the showcase, has been featured in multiple publications and said that this was "not your typical mainstream art show." He describes his art as having urban aesthetics. His art is very heavily inspired by boxing legends like Mike Tyson and Evander Holyfield. After moving to Atlanta in 2000, he got the ball rolling and made a name for himself by doing art for magazines. The show has definitely boosted the popularity of his art by being able to take his art across the country many times. Dubelyoo sees the tour not only expanding on a national level, but internationally as well. He feels that the Jack Daniels brand has definitely increased the featured artists' platform. "We have the opportunity to go places on tour, and a lot of people don't get that opportunity," he said. They were able to sell out a federal building in D.C., and have a show coming up in Birmingham.
Tattoo artist and beatboxer Zach Murray has been immersed in art since he was in elementary school. After really developing his skills in high school, he went to art school in hopes of further developing his technique, but realized that he grasped the material his professors tried to teach him. After going his own way, he became a freelance artist and pursued tattooing, which is something that he does today. According to Zach, in 2011, he connected with Dubelyoo through DJ Lord and has since showcased art of Hip-Hop icons such as Lauryn Hill and Slick Rick. Due to the election year, in 2012, he delivered art that was politically inspired, giving a twist by making Barack Obama and Mitt Romney into zombies. This year the Game of Thrones inspired his art. "I love Sci-fi and fantasy, and I wanted some subject matter that I knew everyone would attach to, because it's [The Game of Thrones] huge in pop culture right now." He loves creating art that embodies photorealism elements. The show has definitely helped Murray in several ways, including networking and traveling. He revealed, "the same way I don't like to be in a bubble, I don't like to be in just one town… I want my work to spread the world."
This year, the Hip-Hop performing artist was Chi-Town's very own Twista, along with other creative and crowd-engaging amateur artists. For more information on how you can be a part of this experience in another city, go to www.jackhoneyabl.com.