Rubio skirts citizenship question for undocumented immigrants
Manu Raju | 1/19/2016, 6 a.m.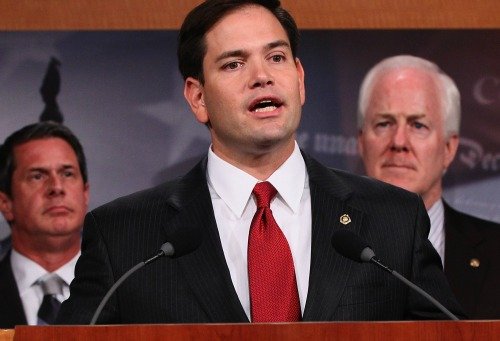 An Iowa voter here had a straightforward question Monday for Marco Rubio: "Do you support a path to citizenship for illegal aliens?"
But Rubio's answer was anything but.
"It's not a yes or no answer," Rubio said, adding that the U.S. can't deport 12 million people.
Most Republicans back work permits for undocumented immigrants, he said. Some would be deported, and others would face "significant consequences."
And eventually some can "apply" for green cards, but Rubio didn't express his preference on citizenship.
"I have personally said that I am open for them being able to apply for -- not being awarded -- apply for a green card," Rubio said before several hundred people at a community center here. "You can't apply for citizenship -- you can apply for a green card."
Pathway to citizenship
It was the latest iteration of Rubio's handling of a subject that continues to haunt his presidential ambitions. He has repeatedly backed a pathway to citizenship, including in the controversial Gang of Eight immigration bill that he co-authored in 2013. But when he speaks to Iowa voters, he takes a noticeably tougher line.
"There will be no amnesty," he says in stump speeches and in a TV ad, looking directly into the camera.
"If you are a sanctuary city, you will lose your federal funding," Rubio thundered before several hundred voters in a Marriott hotel in Coralville, Iowa, prompting roaring applause.
The shift in rhetoric comes at an urgent time for Rubio. Polls show him consistently in third place in the Iowa caucuses, a position his advisers hope he will maintain, emerging as an alternative to Ted Cruz and Donald Trump, both of whom have taken a much tougher line on the emotional issue.
But to avoid falling behind, Rubio needs to alleviate concerns from the GOP base over his handling of the immigration issue, when he worked with a bipartisan group of senators to cut a major deal that would have created a 13-year path to citizenship for millions of undocumented immigrants -- only to abandon the plan when the measure stalled in the House.
"Sen. Rubio, the only thing he's done in the Senate so far is write the amnesty bill with Chuck Schumer, and then as soon as it got too hot, he ran away and hid," New Jersey Gov. Chris Christie said Monday on Fox News. "That's not leadership and that's not what we need from a president."
To stay in a strong position in the early primary states, Rubio must maintain momentum heading into New Hampshire; falling behind other establishment favorites -- like Christie, Jeb Bush or John Kasich -- could be detrimental to his campaign.
Son of immigrants
Rubio laces the immigration issue into his stump speech, noting that as a son of Cuban immigrants who grew up in a community of migrants, he knows personally the challenges of the immigration system.
"I've lived it," he said.
"When you know what life is like in another place, you know how special this country is," Rubio told an audience of about 500 in Bettendorf, Iowa, speaking of his parents.