Houston's Rising Star Coline Creuzot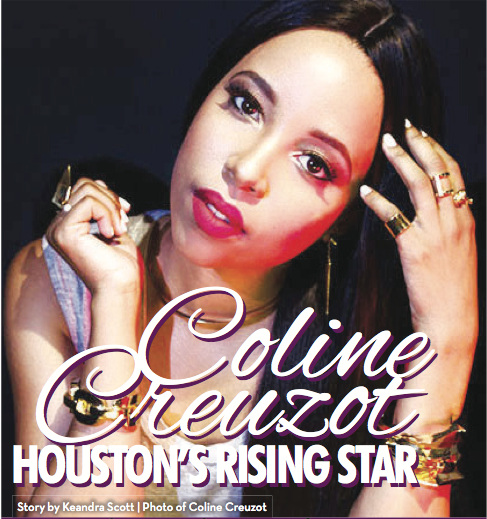 Could Coline Creuzot be the next R&B rising icon out of Houston, TX making an impact in music entertainment?
Houston-native and Sony ATV songwriter Coline Creuzot is not just another darling face with a mic in her hand. She has the voice, flare and flavor galore to rock the charts with her hit single, "Truth Is." We covered the singer-songwriter's Creuz Control EP back in 2014 and as we fast-forward to 2016, Creuzot wanted to check back in with the home team for her latest happenings.
After establishing the breath-taking similarities between Creuzot and Aaliyah, we uncovered she is the granddaughter of Percy "Frenchy" Creuzot, Jr. the owner/operator of Houston's famous Frenchy's Chicken. The grind has always been in Creuzot's bloodline. She comes from a musical family and is surrounded by one of the most influential families in music entertainment, The Knowles.
The R&B singer spoke on her experience singing background with Solange and appearing in the "I Decided" video. "Solange is one of my childhood friends..." as Creuzot continued to open up about how one of Solange's background singers got hurt and she was on hand in Los Angeles to help out. "It was all love there," Creuzot stated. Speaking of L.A., after signing a deal with EMI, which is now Sony ATV, the multi-talented soul made the move from Houston to LA; she has been residing there for 3 years now.
While Creuzot is in the booth, or putting up the easel to create some flawless symmetrical or abstract artwork, finding balance with her 9-month-old daughter and husband becomes a task. The mommy and wife mentioned, "You know, it's a lot of work, but it's definitely worth it. She continued, "Teamwork makes the dream work, we just figure it out. We don't sleep much but we work it out (haha)."
As the interview progressed, Creuzot shared her inspiration for her single, "Truth Is" produced by Houston's own multi-platinum composer/producer and Grammy Award-winning Happy Perez (who also worked with Miguel, Frank Ocean, and Mary J Blige) "It was one of those moments," she explained as she described how she wanted to be abrasive yet deliver the track nice and sweet. "I like to be a voice for women or people who need that extra boost of confidence or need to feel good," said Creuzot. Although the dynamic singer-songwriter has worked with some of Houston's top talent such as Paul Wall, Slim Thug and even basketball star turned rapper Booby Gibson, she has future aspirations to work with neo-soul icon Lauryn Hill, Andre 3000, The Dream, Ne-Yo and Timberland.
The multi-talented artist made sure to let us know after the drop of her forthcoming EP "Timeless" (produced by Happy Perez and Troy Johnson) she will be putting together a major showcase in L.A., Houston, Atlanta and other cities as a follow up to the project.
The video for "Truth Is" is out via Coline Creuzot's YouTube channel.
Let the anticipation of a phenomenal year for Coline Creuzot set forth!
Follow Coline Creuzot on Facebook, Twitter, Instagram and for her high-tech fans, she has been converted to the new wave of snapchat @ColineCreuzot. Visit her official site, www.colinecreuzot.com, for music, art and more!