Dior Presents Haute Couture Spring-Summer 2016
Makeup Created & Styled by Peter Philips Creative and Image Director for Dior Makeup LE MUSÉE RODIN - PARIS, FRANCE - Jan. 25, 2016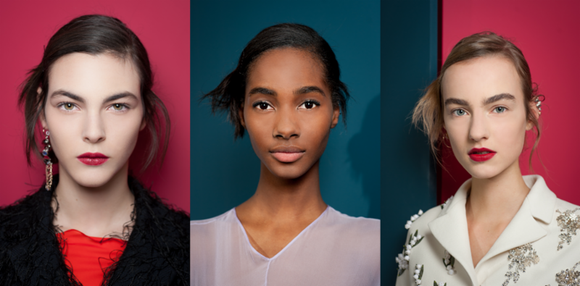 "This diaphanous beauty displays eyes emphasized with black eyeliner combined with a nude lip, while some models put in appearances displaying scarlet lips set against a flawless complexion. Only a few groups of models, in the middle and at the end of the show, wore an intense shade of red lipstick. The idea was to create a "coup de Trafalgar"[See bottom of email] and revive the memory of the red looks thus named by Christian Dior, who would send these flamboyant designs out in the middle of a show to take the audience by surprise." - Peter Philips, Creative and Image Director for Dior Makeup
All other products available on Dior.com.
COMPLEXION
Diorskin Star Foundation (available in 14 shades)
Diorskin Star Concealer (available in 5 shades)
Diorskin Nude Air Healthy Glow Invisible Powder (available in 3 shades)
"Both the makeup looks shared the same pale and luminous complexion. I blended Diorskin Star Fluid Foundation into the skin to even out and illuminate the skin. A few touches of Diorskin Star Concealer and a light dusting of Poudre Nude Air added the finishing touches to this flawless complexion." - Peter Philips
EYES
Diorshow Pro Liner Waterproof #092 Pro Black
Diorshow Maximizer 3D Triple Volume Plumping Lash Primer(Launching April 2016)
Diorshow Mascara #090 Pro Black
Diorshow Iconic Overcurl Mascara #090 Over Black
Dior Summer 2016 5-Couleurs Eyeshadow Palette #536 Escapade(Summer 2016 Collection, launching May 2016, limited edition)
"The upper eyelid was heightened by applying Diorshow Pro Liner Waterproof black eyeliner at the lash line - the horizontal line lengthens the eye. Next I emphasized the lashes to obtain a really thick, heavy lash. First I coated them with Diorshow Maximiser 3D, then I applied multiple coats of black mascara, alternating between Diorshow, which creates density, and Diorshow Iconic Overcurl, which maintains good curl in the lashes. For the nude eye on the second look, I used the light, iridescent shade from the centre of the 5-Couleurs Palette in
Escapade. Applied to the entire eyelid it gives the eyes a gentle, natural light."
LIPS (Two Lip Looks - Nude & Red)
Dior Fix It 2-In-1 Prime & Conceal
Dior Contour Lipliner Pencil #952 Rouge Royale
Diorific Mat Lipstick #750 Fabuleuse (Winter 2015-16 Collection, limited edition)
Dior Contour Lipliner Pencil #943 Thrilling Plum
Diorific Mat Lipstick #590 Troublante
(Shade not available in the USA, limited edition Winter 2015-16 Collection shade available in Europe only. Rouge Dior Lipstick in #890 Brun Jungle and #988 Rialto can be used where Peter used the Diorific Mat in Troublante for a similar effect. )
"The first lip look was an unobtrusive lip - we simply applied the neutral shade of Fix It to revive natural lip colour. The second look, on the other hand, has a fiery red lip - the famous "Coup de Trafalgar" in a nod to Christian Dior's shows. I outlined the lips with Crayon Contour Lèvres in Rouge Royal, then I applied Fabuleuse, the highly pigmented red shade of Diorific Mat. Next, to create the shaded effect, I added a darker touch of Crayon Contours Lèvres in Thrilling Plum, blended with the deep red Diorific Mat Troublante, to the centre of the lower lip, blending the edges a little bit so that the lip line wasn't sharply defined, but just a little bit blurred." - Peter Philips
NAILS
Dior Vernis #970 Nuit 1947
"Nails revealed an intense shade of plum that was almost black, in Dior Vernis n°970 Nuit 1947" - Peter Philips
While Christian Dior loved grey, pale pinks and blues, he also loved strong color and he used it for contrast, particularly red. Describing its intensity as the "colour of life," red was a daring color of passion to Monsieur Dior, and it appeared in every one of his collections, for what he called his "Coup de Trafalgar." The scarlet of a coat, or the blood red shade of a dress had the effect of cannon fire, a "blast of Trafalgar" that caused a sensation right in the middle of a long runway presentation, to use Monsieur Dior's own term. Each red look was a strong statement -a spectacular red dress, usually an evening gown - a bright look-at-me piece that surprised the audience, making sure everyone was paying attention.
For more information, visit dior.com