Bridges of Madison County: A Musical with the Perfect Love Story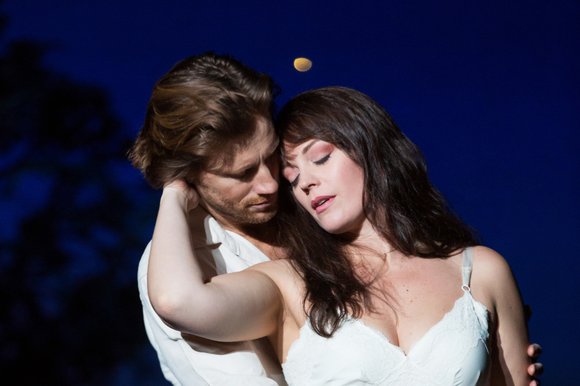 You ever longed for another life or met your true soul mate when it was much too late?
This is the story of the meeting of two people Francesca, an unhappily married, Italian housewife, and Robert a handsome, free- spirited, traveling photographer who is in Madison Country photographing its famous covered bridges. These two lonely hearts are brought together by chance and soon discover although their love is " the kind of certainty just comes just once in a lifetime", they decide not to pursue one another past their passionate, illicit affair.
Set in 1960's, The Bridges of Madison County Musical is a torrid love story about unfinished love, longing, and loyalty. The musical like the hit movie (that starred Clint Eastwood and Meryl Strep) is based on the novel by Robert James Waller, but unlike the movie includes a wonderful Tony award winning music score that mixes folk, country, pop and operatic passages composed by Jason Robert Brown. It was just in 2014, that The Bridges of Madison Country Musical received four Tony Award nominations including: Tony awards for Best Original Score and Best Orchestrations for Jason Robert Brown. If you are truly a music fan you will fall in love with this amazing, composed score that has a proven, wide appeal for all audiences.
TUTS' Bridges of Madison County Musical not only showcases a talented ensemble cast, but also I was just as impressed with the direction, stage and design of the production as well. The current production on tour is directed by Bartlett Sher, musical direction by Keith Levenson, scenic design by Michael Yeargen, costumes by Catherine Zuber, and lighting by Donald Holder.
Actors Elizabeth Stanley (Francesca) and Andrew Samonsky (Robert) gave Houston audiences an undeniable vocal performance. Stanley, who received her training at Indiana University's Jacobs School of Music, has been a soloist with numerous orchestras throughout her career and her compelling voice wowed Houston audiences. Samonsky, just as vocally impressive, has also appeared as a soloist with symphonies across the country.
Favorites ballad of the night were "Wondering" a riveting, powerful duet between Stanley and Samonsky, and "Who We Are and Who We Want to Be," a beautifully sung ballad that included the entire talented ensemble.
This heart warming, sweeping romance connects with any and everyone one who is tired of their mundane, ordinary life and dreams for a love that is something much more. The show was very compelling, however I would not recommend this one for kids due to mature language and scenes.
TUTS' Bridges of Madison County Musical is a must see; with it's amazing, beautifully-sung ballads and performances so filled with passion and hankering avidity. This is definitely an incredible show to catch so go and see it with the friends or bring out your beau and make it an incredible date night to remember!
The Bridges of Madison County Musical is showing through January 31st in Sarofim Hall at the Hobby Center in Houston. To purchase tickets now visit www.tuts.com/shows/bridges-madison-county