Rodney Ellis Readies for Harris County Commissioner Contest
Burt Levine | 1/29/2016, 12:51 p.m.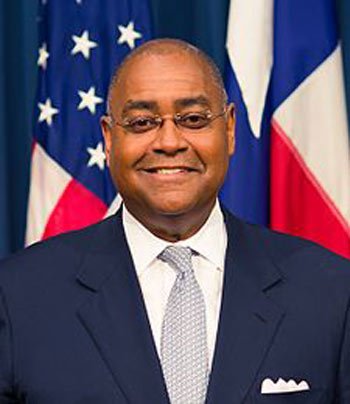 Just hours after news broke that Harris County Commissioner El Franco Lee had died, the county's first and only African American County policy maker, State Sen. Rodney Ellis was mum but not shutting out his running to succeed Lee. While walking from Mayor Sylvester Turner's inauguration at Jones Hall Ellis said then it was too early talk about it.
"I'm shocked and saddened by the tragic passing of Harris County Commissioner El Franco Lee. El Franco was a personal friend and mentor – someone I always turned to when considering big decisions in my life, so I'll miss him greatly," said Ellis.
Lee's name, considered one of the most powerful in Texas government, representing more than one million people with personal office and also campaign budgets of many millions of dollars was considered one of the most powerful players in Texas politics. Lee served in the post for 30 years. Just as powerful as Lee's legacy in public service is that of Ellis' as a in the Texas Senate. Ellis is one of two African American state senators to have led for decades anywhere in all of Texas. Ellis has already filed for reelection for the Texas Senate, despite wanting to be Harris County Commissioner, since the filing deadline was in December 2015, Ellis and Lee's names can not be removed from the March 1st Democratic Primary ballot where early voting begins in about two weeks February 16.
Last Friday Harris County Judge Ed Emmett named revered public law attorney and former Houston mayoral candidate Gene Locke to hold Lee's seat until the end of this year with the pledge that Locke will not be a candidate for the full term which would begin in January 2017.
"El Franco's legacy will be that of public service, as he was always a stalwart advocate for Harris County and Precinct One. He positively impacted the lives of countless residents each year, whether through the Street Olympics, public park upgrades, or senior programs. El Franco used the power of his office for the greater public good, and our community is better off thanks to his dedication and desire to serve." Ellis continued in speaking of the man he served with as both were and are considered among the giants of Texas African American history.
Since no Republican filed in the decidedly Democratic Pct. 1 Lee represented under Texas election rules, it's too late to take Lee's name off the March 1st primary ballot. Lee was running unopposed in the Democratic Primary as he had for most of the last three decades.
Following the Democratic Party Primary March 1st and the May 24th run-offs, where Democratic Party precinct chairs will be chosen by the voters in individual voting precincts in June, new precincts chairs will select Lee's replacement on the upcoming November Presidential General Election ballot.
"I'm excited to visit with Harris County precinct chairs and other leaders about continuing El Franco's legacy of service to this community," Ellis said. "I can confirm that I am seeking to be the next commissioner for Harris County Pct. 1."