Meek Mill Denies Plans To Drop Diss Track About "Crackhead" Joe Budden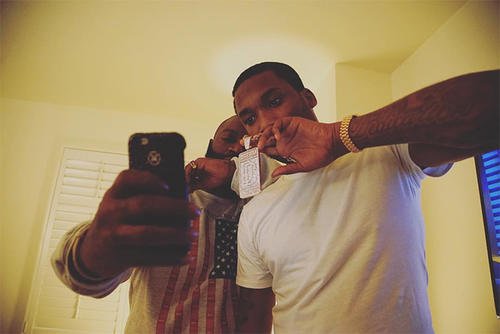 A new beef between Meek Mill & Joe Budden is good ammo for those who lament that rap beefs only take place on social media.
Here's what happened. Last year, Budden criticized Meek's music on his podcast last year. "Meek's music is too hard for me to look at him with this fucking sappy fuck shit" he said.
Meek responded by encouraging Nicki Minaj's fans to go after Budden on social media. "Joe tripping," he wrote. "Rap money slowing up ... Guess it's 'Love & Hip-Hop' ... And I brung Joe Budden out on my sold out show in NYC ... It was a funeral when you got the mic. Stop hating noodle. Barbz get 'em."
Earlier this week, Budden escalated the dispute with a controversial tweets. "I'm not off 'barbs get him," he wrote. "Fuck Meek."
Shortly thereafter, Meek posted some disrespectful bars, suggesting that he was preparing to drop a diss track directed at Budden:
"Petty niggas wanna mention my name to get acknowledged

Hoping I react like a fool and give em violence

I rather kill em wit success and give em knowledge

before I throw it all away for a sucka cuz we the hottest

My momma crib big as a church,I'm being modest

No sleep putting in work that's how she got it!"
Meek later clarified the post, writing, "Nobody ain't tryna come at that shermhead/crackhead JoeBuddens this nigga got the blogs to say I'm about to diss him we running down on niggas off the internet … He's infatuated with rappers lives nigga a podcaster now lol."
In since deleted tweets, Budden wrote: "@MeekMill don't worry, I was done being reactionary months ago. I'll initiate, u take your time, diss bars clearly aren't your thing. I apologized once, now repent. Grab a pad quick nigga, it's coming."
This is all a bit ironic, considering Budden previewed a diss track against Meek's sworn enemy Drake earlier this week.
For more information go to http://www.hotnewhiphop.com