Senator Rodney Ellis: Fighting for Progress on the Harris County Commissioners Court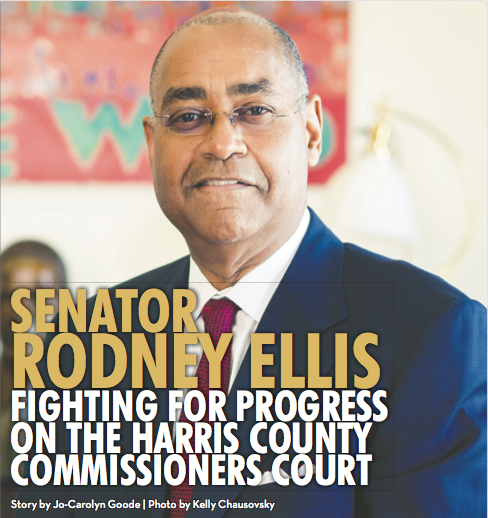 A solid reputation and a legacy of experience are a stable foundation to build one's trust in people. The people of Texas have been building their trust in Senator Rodney Ellis for years. As he represented them on various levels of government, advocating for the good and the right, Senator Ellis has been a mainstay and a voice for so many on the political scene. He has a heart for people.
Born in the nucleus of his district, Senator Ellis served on Houston City Council and for the late U.S. Congressman Mickey Leland before completing his twenty-six year stretch as a state senator. This has given him name recognition and made him a clear front-runner for the Commissioner's seat left vacant by the untimely death of El Franco Lee. Now officially having become the Democratic nominee, complete with the blessing of Kaye Lee (window of El Franco Lee), Senator Ellis stands poised to take on the post pending no opposition from other parties, which is highly unlikely.
Senator Ellis has said that he has dedicated his life to service and is proud of the work he has done thus far passing over 630 bills as a Senator. However, he feels at this time he could be more effective on the local level.
"Sadly, extreme partisanship has narrowed the agenda in state government, and the needs of millions are being sacrificed and ignored to score cheap political points. More and more, local government is taking the initiative, doing the hard work, and implementing the policies to enact positive change." Senator Ellis continued, "Today, the best and most effective way to solve the challenges facing our community – from criminal justice reforms to ensuring area seniors' quality of life – is through strong leadership at the local level, and I believe I can best serve the people of Harris County by fighting for progress on the Harris County Commissioners Court."
As a Harris County Commissioner, Senator Ellis, like Lee, would be the only African American and the only Democrat on the five-member court. He will also manage a budget of $200 million and help governed one of the largest counties in the nation. Coming into the office, Ellis has his eyes focused on major issues of healthcare, infrastructure, jail reform, quality of life for citizens, and the extensive list goes on. Ellis wants to hit them all.
Supporting Medicaid Expansion
According to Senator Ellis, Medicaid expansion is needed to save the county money.
"With a $15 billion investment in Medicaid expansion, Texas could draw down $100 billion in federal dollars over 10 years and create 300,000 jobs." He continued to note that the influx of dollars to communities would help homeowners by giving them some much needed tax relief. "In Harris County, this would mean the possible reduction of over $900 million that Harris County taxpayers currently pay for indigent care, insuring over 300,000 of our local residents and bringing over $750 million in new healthcare spending and 60,000 jobs to our local economy."