Tennis Greats Venus and Serena Williams Both Advance to Wimbledon Semifinals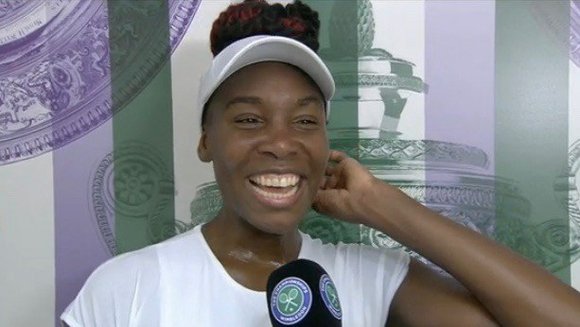 article via eurweb.com
Venus Williams was all smiles, and even giggled a little as she defied expectations and earned a spot in the Wimbledon semifinals in London today, beating unseeded 28-year-old Yaroslava Shvedova 7-6 (5), 6-2.
Immediately after her match on Court No. 1, her sister Serena Williams ran through Anastasia Pavlyuchenkova in straight-sets 6-4, 6-4 to book her 10th Wimbledon semifinal.
As the announcers have mentioned at every turn, Venus is the eldest player in the tournament at age 36. Advancing to the Wimbledon semis at this age and with her health history is an accomplishment she also acknowledges as special.
"You can't always have this big moment. If you're Serena Williams, then I guess that happens a lot, but as Venus Williams this is an awesome day," Venus said in her post-match interview.
Venus's next opponent will be No. 4 Angelique Kerber, also a straight-sets winner today over No. 5 Simona Halep 7-5, 7-6 (2).