Serena Williams Wins Wimbledon for Historic 22nd Grand Slam Title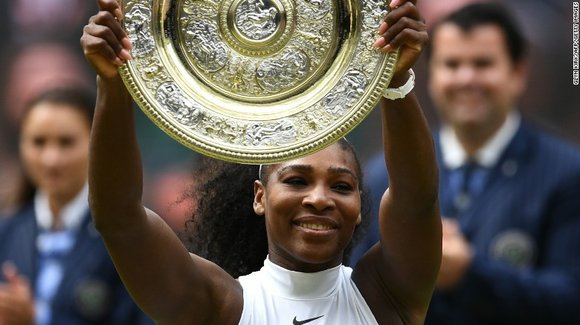 "Because so many things were underlined, the calendar slam, the 22nd, the fact that it was in New York, all those things together, this hurt her much too much and the other losses were a consequence of this one," said Mouratoglou.
"We didn't realize how much time she needed to recover from the (disappointment) of the loss at the U.S. Open. It took time. That's what I feel."
Interestingly, Williams disagreed with Mouratoglou.
"I don't think it shook me," she said.
They'll agree on liking Saturday's result, which ensured that Williams' older sister Venus remains the lone player to down Serena twice in grand slam finals. Venus -- a loser to Kerber in the semifinals -- sat in the player box along with Beyonce and Jay Z. Later Saturday she combined with her sibling to capture the women's doubles crown.
Great entertainment
The first point of the women's finale whetted the appetite: After a lengthy exchange, Kerber struck a winning forehand.
Superb entertainment ensued for fans on Centre Court and the millions watching around the world as Kerber attempted to neutralize Williams' potent shots.
Kerber saved three break points in her opening service game. She would often be scampering side to side in the match dealing with those Williams' drives.
Williams, a great mover like Kerber, took a slight tumble at 4-4 but was unhurt. At 5-5, 15-30, two unreturnable Williams serves got her out of trouble.
Just when it looked like a tiebreak beckoned, Kerber, fatally, made two unforced errors at 5-6, 15-all, both times in -- commendably -- attempting to hit aggressive shots to do some of the dictating herself from the baseline.
On a second set point Williams forced an error to grab a crucial one-set lead: Williams has never lost a final at a major when winning the first.
The fourth seed won what was arguably the point of the contest in the fourth game of the second when she crushed a backhand from well outside the doubles alley down the line.
At 3-3, not only did Williams produce the ace on break point but she hit another ace to earn a game point. Seeing that rare chance dissipate, Kerber was broken in the next game and Williams held to love to close out the one hour, 21-minute affair.
"Today when she's in trouble at 15-30, boom, boom, this is Serena," said Mouratoglou. "When she needs to lift her level to close it, this is Serena. I didn't see that for eight months."
After authoring a winning volley on match point, Williams fell backward onto the grass. Williams and Kerber then exchanged a long hug to cap an enthralling battle.
"I just said to her, 'Congrats,' and that she's a champion," said Kerber.
Indeed. And not just any champion.