Wicked's Talented Tale Bewitches Houston Audiences
Wicked whisked it's magic for Houston audiences opening night last week and it was the kind of production that brought everyone to their feet. Wicked- is a cleverly written, imperfect tale of good vs. evil and a story of friendship, envy, belonging and love. It's also a tale that touches on the not so subtle themes of "Feminism" with its strong heroine characters and "Colorism"- as we watch Elphaba struggle with acceptance because she is the color green. What I enjoyed about the story of Wicked is that it is a true Universal story and within the magical, green World of Oz, there lies a defining character that truly resonates with everyone.
While Wicked is based on the classical tale of the Wizard of Oz, it is really the untold story of the Witches of Oz and it's story begins before Dorothy arrives. With Wicked you'll discover how the Witches of the North and West became to be, their unlikely friendship and how they both ultimately thrived in World of OZ.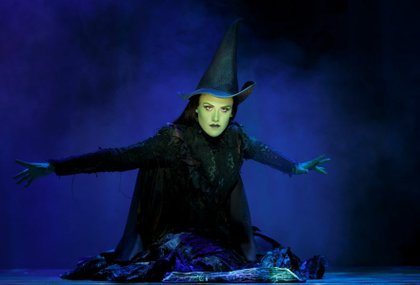 The Synopsis: Two dubious friends, Elphaba (the Wicked Witch of the West) and Galinda (the Good Witch of the North), who struggle through opposing personalities and viewpoints, rivalry over the same love-interest, reactions to the Wizard's corrupt government and, ultimately, Elphaba's public fall from grace and Galinda's testament of love, lost, and loyalty. The musical is told from the perspective of the witches of the Land of Oz; its plot begins before and continues after Dorothy's arrival in Oz from Kansas.
Stand out performances were notably the Wicked's main stars. Amanda Jane Cooper's "Perfectly Blonde" (think Elle Woods) hilarious rendition of a goody two shoes Glinda was a hit and Emily Koch's vulnerable, human portrayal of Elphaba as a misunderstood villain with heart. Both Cooper and Koch's vocal range and soprano ability was simply outstanding and incredible to watch.
The entire ensemble of Wicked was exceptionally talented. Other notable performances and clear audience favorites were actors: Wendy Worthington as the truly wicked, headmistress "Madame Morrible" and Chad Jennings as the professing goat, "Doctor Dillamond". Both actors' performances - included the right amount of comedic timing and kept the audience laughing throughout the night.
Wicked's score also does not disappoint and includes music and lyrics by Tony and Grammy award winning composer Stephen Schwartz. Be prepared to hear beautifully written ballads and catchy, toe-tapping numbers as well. Noticeable musical favorites included song hits: Popular, Defying Gravity, No Good Deed, and For Good.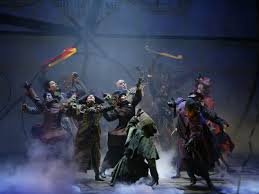 Another reason to see this Wicked- would be the fabulous, costumes (envisioned by Susan Hilferty) and the incredible, imaginative set (designed by Eugene Lee) that comes to life with a fiery, mechanical dragon that sits on top of it's glintering- green, englamoured stage.
If perfectly pitched floating witches, dragons and scary flying monkeys aren't enough to keep you on your toes, you will be swooning to the captivating song and dance performances of Wicked's entire talented main ensemble.
Run, run, run to Hobby Center and grab your ticket now. Wicked is the closest to Broadway you'll get this summer. This phenomenal hit of a show, brilliantly Directed by Joe Mantello is the BEST I've seen in a very long time.
What: Wicked ~The Untold Story of the Witches of Oz
When: Jul 6, 2016 - Aug 14, 2016
Where: Hobby Center of the Performing Arts
Buy: http://www.thehobbycenter.org/?q=node/1486
Rate: A Summer MUST SEE!