Nation Reacts After 3 Officers Killed in Baton Rouge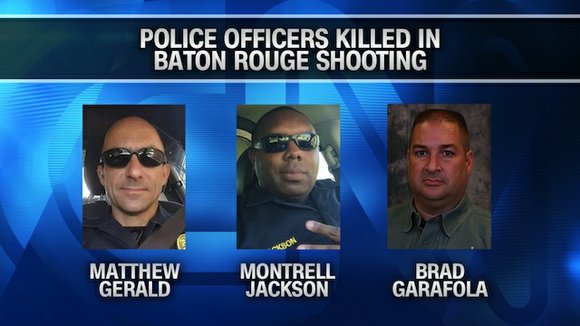 By Joshua Berlinger and Ashley Fantz
CNN
(CNN) -- Officers Montrell Jackson, Matthew Gerald and Brad Garafola were killed Sunday after being ambushed and shot by a lone gunman in Baton Rouge, Louisiana.
Their deaths have kept the spotlight on a region where the July 5 shooting death of Alton Sterling at the hands of police began what has been two weeks of national turmoil.
"We as a nation have to be loud and clear that nothing justifies violence against law enforcement," President Barack Obama said after Sunday's attack. "Attacks on police are an attack on all of us, and the rule of law that makes society possible."
Now police across the country are taking precautions.
The New York Police Department is doubling up all foot patrols and security posts, according to a memo obtained by CNN. Officers are also being instructed to take all meals and personal breaks in pairs.
In Cleveland, the police union is asking Gov. John Kasich to restrict the state's open carry laws temporarily for the Republican National Convention in light of the events in Baton Rouge.
To better protect its officers, the Boston Police Department is requiring that two officers be in every patrol unit.
Although Baton Rouge is "hundreds of miles away from Boston, the pain and suffering caused by the loss of these officers in the line of duty is felt deeply by the men and women of the BPD," Boston Police Commissioner William Evans said Sunday. "This all too common trend we are seeing of violence against law enforcement officers who are out there each day serving and protecting neighborhoods across the country is alarming and disheartening."
Obama urged a stop to the bloodshed.
"Only we can prove, through words and through deeds, that we will not be divided," the President said Sunday. "And we're going to have to keep on doing it again and again and again. That's how this country gets united."
'No talking, just shooting'
The shooting Sunday took place around 8:40 a.m. (9:40 a.m. ET) in the city of about 230,000 people, already tense after the high-profile police shooting of Sterling, an African-American man.
On Sunday, police received a call of a "suspicious person walking down Airline Highway with an assault rifle," a source with knowledge of the investigation told CNN.
Killer Gavin Long "ambushed" the officers, said Col. Michael D. Edmonson, superintendent of the Louisiana State Police.
Long's "prey was those police officers," Edmonson said Monday morning on CNN. "He drew them to the scene."
After the first set of officers were attacked, more responded to the scene and killed Long, authorities said. He had been carrying an AR-15-style, semi-automatic rifle, law enforcement sources told CNN.
At a Sunday afternoon news conference, local and state authorities, including Louisiana Gov. John Bel Edwards, said Long was thought to be the lone gunman. Earlier reports had said authorities believed there might have been more than one attacker. Edwards described the shooting as an "absolutely unspeakable heinous attack."
The Louisiana State Police said they questioned and released two people in relation to the attack, and no charges were filed.