Northeast Texas Grape Growers Gather in Harleton to Learn, Share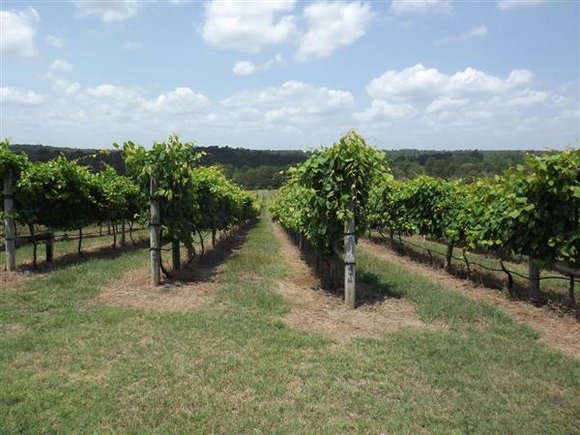 HARLETON — Altus Koegelenberg, owner and operator of Enoch's Stomp Vineyard and Winery in Harleton, planted his first vine in 2005 when growing wine grapes in East Texas was a fledgling idea.
In little more than a decade, he has expanded the vineyard to include seven varieties of grapes for 15 types of wines on 24 acres that produce 74 tons of wine grapes each year.
Koegelenberg said it's been a slow build but he expects to expand his operation with more vine acreage within the next five years.
Texas wine grapes and wines are gaining popularity and the state's industry is "booming," said Michael Cook, Texas A&M AgriLife Extension Service viticulture program specialist, Denton.
In recent years, research on fungal diseases and other obstacles and creation of new hybrid vine varieties has allowed growers to consider establishing wine grape plants in regional climates where typical varieties faced difficulties, Cook said.
In 2001, there were around 40 wineries in Texas. Today there are more than 400. Planted acres of wine grapes have more than doubled to more than 7,000 acres in a decade, according to a 2012 U.S. Department of Agriculture census.
Science-guided methods are important to the burgeoning $2 billion Texas industry as an influx of new winemakers looks to make a name and established vineyards look to perfect their processes and expand their operations to meet demand, Cook said.
Most of Texas' wineries are located in Central Texas and most wine grapes are grown in the dryer climate of Terry County in West Texas, but East Texas is emerging as a region where grape growers and estate vineyards are succeeding, Cook said.
Cook and two fellow AgriLife Extension viticulture specialists held a field day, in East Texas, at Koegelenberg's vineyard to discuss the difficulties of growing wine grapes in a hot, relatively wet region, where producers' concerns range from sunburn and fungal diseases to deer and untimely rains.
The inaugural Northeast Texas Wine Grape Growers Field Day was attended by around 60 novice and professional grape growers.
"AgriLife is doing a lot of research to see what varieties are best suited for the various regions and experimenting to determine best practices and techniques to help growers around the state bolster the industry," Cook said. "It's a collaborative effort and within the last couple of years, the quality of grapes and wines being produced has skyrocketed."
Cook discussed proper harvest indices for wine grapes in the region.
Dr. Allan Knutson, AgriLife Extension entomologist, Dallas, discussed the best practices to control insects. Dr. Justin Scheiner, AgriLife Extension viticulture specialist, College Station, discussed managing fungal disease pressure.
Randy Reeves, AgriLife Extension agent, Gregg County, said the event was an opportunity for growers to learn tips and tricks of the trade and access experts and research-based information that will help their operations.
"Interest in growing grapes and winemaking has really grown in the past several years, and I don't see it slowing down anytime soon," Reeves said. "Events like this are good because they bring experts in the field, experienced growers and people new to the industry together. The information that's shared is critical to improving the industry for the region and the state."