Fall Fashion and Philanthropy Bloom at The Woman's Hospital of Texas 13th Annual Labor Day Luncheon & Style Show
The hospital's largest event and fundraiser raises awareness and funds for the March of Dimes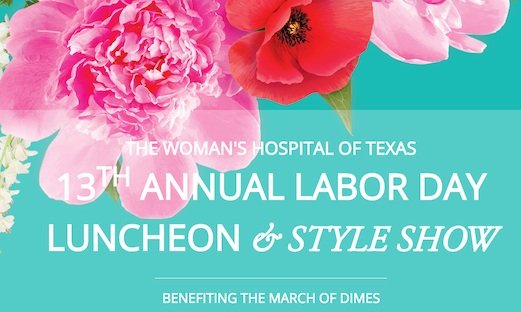 Guests at The Woman's Hospital of Texas 13th Annual Labor Day Luncheon & Style Show will see what's in bloom for Fall 2016 fashion while celebrating Houston-area moms and babies and raising much-needed funds to benefit the March of Dimes. The event will feature a three-course lunch, style advice from Houston-based image consultant Rebecca Matthews and a runway show curated and produced by Todd Ramos. Additionally, special guest speaker and star of TLC's "Outdaughtered" Danielle Busby will tell her story of how she gave birth to the only set of all-female quintuplets, right here at The Woman's Hospital of Texas.
The event is co-chaired by The Woman's Hospital of Texas CEO Ashley McClellan and Suzan Deison, president of the Greater Houston Women's Chamber of Commerce, both of whom are Houston market directors of the March of Dimes Foundation. The event's mistress of ceremonies is KTRK-ABC13 Anchor Ilona Carson.
Guests will also have the opportunity to shop for a good cause at the Boutique Bazaar, a pop-up market featuring clothing, accessories and other must-have merchandise from premier local boutiques. Ten percent of purchase proceeds will benefit the March of Dimes NICU Family Support Program at The Woman's Hospital of Texas. Visit www.labordayluncheon.com for more details. Tickets start at $50. Tables start at $500. All proceeds benefit the March of Dimes.
The March of Dimes works to improve the health of babies by preventing birth defects, premature birth and infant mortality. The March of Dimes is the leading nonprofit organization for pregnancy and baby health. For more than 75 years, moms and babies have benefited from March of Dimes research, education, vaccines, and breakthroughs. For the latest resources and information, visit marchofdimes.com or nacersano.org.
The Woman's Hospital of Texas opened in 1976 and is celebrating its 40th year as the state's premier facility dedicated to the health and well-being of women and newborns. With the recent addition of its Pediatric Center, the hospital now offers its high-quality care to children and teenagers. Located near the Texas Medical Center in the heart of Houston, The Woman's Hospital of Texas offers 397 licensed beds, including a Neonatal Intensive Care Unit (NICU.) With more than 650 board-certified physicians, The Woman's Hospital of Texas offers expertise and outstanding care in breast health, imaging, gynecology, obstetrics, high-risk pregnancy, neonatology and minimally-invasive surgery. The Woman's Hospital of Texas is accredited by The Joint Commission, a designated Baby-Friendly Facility, and recognized as a Center of Excellence in Minimally Invasive Gynecology (COEMIG) and a National Association for Continence Center of Excellence: Continence Care in Women. For more information, visit our website at www.WomansHospital.com.