Republicans Unleash How They Really Feel About Ted Cruz's Speech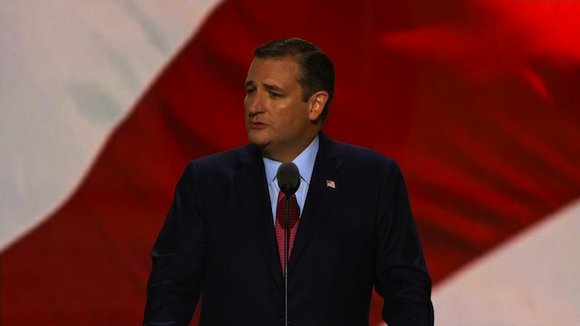 Ted Cruz built his political career on his reputation as an unyielding conservative, but his refusal to endorse former rival Donald Trump in his speech to the Republican National Convention on Wednesday night unleashed a torrent of criticism and condemnation from his fellow Republicans.
Immediately following Cruz's speech, a series of party leaders -- both Trump loyalists and reluctant supporters -- slammed the Texas firebrand for his non-endorsement, in which he told the audience to "vote their conscience."
The Republican presidential nominee himself tweeted shortly after Cruz's speech, writing, "Wow, Ted Cruz got booed off the stage, didn't honor the pledge! I saw his speech two hours early but let him speak anyway. No big deal!"
In an interview with CNN's Dana Bash, New Jersey Gov. Chris Christie -- among the first of Trump's major Republican primary opponents to endorse him -- said he thought Cruz's speech was "awful" and "selfish." He criticized Cruz for reneging on a pledge signed by all GOP presidential candidates through which they vowed to support the eventual nominee.
"He signed the pledge. And it's his job to keep his word. And Donald Trump gave him the opportunity to speak here at this convention tonight, and I think it was too cute, and I think you saw by the end of the speech that the crowd was waiting for him to do the right thing, and realized that once again he wasn't going to do it,"
Christie said.
He added, "And I think the performance you saw up there is why Ted has so richly deserved the reputation he's developed on Capitol Hill."
Michael Cohen, special counsel to Trump, praised his boss and called the nominee's former rival "a baby."
"Donald J. Trump is bigger than Ted Cruz, it just goes to show the distinction between an adult and a baby, and a baby that happens to be a sore loser," he told Chris Cuomo on CNN's "New Day."
Newt Gingrich, the former House speaker who was at one point a leading contender to be Trump's vice president pick, was more sanguine. He thought that what Cruz said -- even without an explicit endorsement -- more or less amounted to an expression of support. Still, Gingrich said he wasn't surprised by the boos.
"When he said in his speech that you could vote your conscience as long as it was for somebody who supported the Constitution, that by definition meant you're not talking about Hillary Clinton," Gingrich told CNN. He added, though, that "these are people who want Donald Trump to be elected president and I think you're sort of asking for boos if you show up without endorsing."
But New York Rep. Peter King -- who has been a regular critic of Cruz -- issued one of the sharpest rebukes.
"Tonight, America saw the real Ted Cruz. He's a fraud, he's a self-centered liar and should be disqualified from ever being considered as a nominee for President of the United States in the future," King said in an interview with CNN. "I never liked the guy, never trusted him but tonight was the worst. To take the time at a national convention and not endorse the nominee is disgraceful."