Houston AKAs Take Service Globally With Little Dresses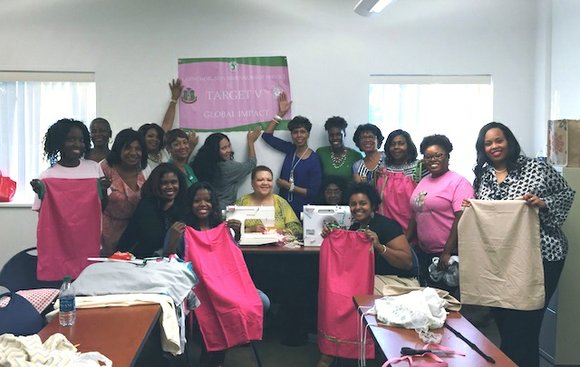 Think about sororities and the first thing that usually pops in mind is partying. But that is not even the core of what sorority life is all about. At least it is not with membership in Alpha Kappa Alpha Sorority, Inc. or any of the other sororities in the National Pan Hellenic Council. Service to others is the focus of why they exist. The ladies see a problem then develop a solution to address it. Generally, members stay in three modes – planning to tackle a problem/concern, executing the remedy to a problem/concern, and ensuring that the problem is eliminated or continuing to get better.
Alpha Kappa Alpha Sorority, Inc.'s service to all mankind is widely known throughout the United States. Their service arm extends well beyond the borders of home, as this international organization's stretch of giving humanity a hand up is global. Houston area chapters of Alpha Kappa Alpha recently participated in a global project that had the ladies relying on skills that helped generations connect while meeting the needs to cover one's back.
Getting involved with the Little Dresses for Africa project was an undertaking that seemed tailored made for the sorority as it has a long history of alleviating the problems concerning girls and women. The Little Dresses for Africa project helps to clothe young girls in Africa whose garments have become worn and tattered. Using a simple pillowcase, thread, and other accessories people have taken on this mission to make beautiful little dresses for some special appreciative little girls.
The ladies of Alpha Kappa Alpha adopted the Little Dresses for Africa project with their partner Africare as one of their 23 community service projects that were completed in association with their 2016 national convention or Boule in Atlanta, GA last week. Twenty-three projects that aligned to Alpha Kappa Alpha 2014-2018 International Program, Launching New Dimensions of Service℠, were completed in honor of the sorority's 23rd International President Mary Shy Scott who was from Atlanta, GA. "For more than 108 years, service has been at the forefront of Alpha Kappa Alpha's mission. During Dr. Scott's administration, she identified creative strategies to address the local and global challenges faced by those most in need. Dr. Scott embodied this mission of service and in her memory, we are putting some of her same strategies to work in Atlanta," said International President Dorothy Buckhanan Wilson, L.H.D.
Sorority members took on the challenge to make 29,000 pillowcase dresses in time for their convention for a mass distribution of the dresses to the villages of Tanzania, South Africa, and Liberia. That goal was blown by the start of the conference when totals reached over 34,000 and members were still counting dresses well into the convention. "The efforts of the sisterhood was indeed a labor of love by all of our Alpha Kappa Alpha chapters worldwide and was an overwhelming success," said South Central Region Representative to the International Program Committee Regina Carrington. "As we continue our international theme of Launching New Dimensions of Service, we want these little girls to feel good about themselves and realize our sorority cares about them and wants to play a valuable part in their future successes."