64-Year Old Fitness Enthusiast and NPC Body Figure Competitor Proves that Its Never Too Late to Take Control of Your Health & Fitness
Lorraine Gantt Launches "Own Your Age" Fitness Video & Program for those 50 and Over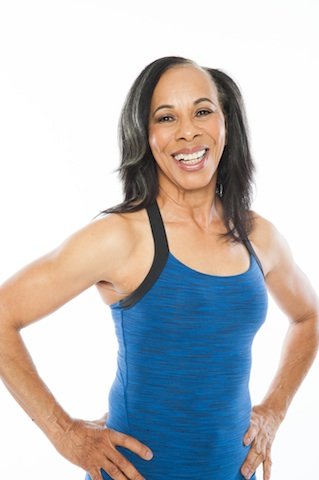 Houston, Texas (July 7, 2016) - As we embark upon the "Summer Olympic Games", millions of people all over the world will be amazed and inspired by the astonishing fitness and athletic abilities of the world's best athletes. Some may become motivated to meet new fitness goals, while others may believe that they have simply gotten too old to get back into a healthy fitness routine. For those that are letting their age serve as a barrier to getting healthy and fit, registered nurse and certified personal trainer Lorraine Gantt says, "Own your age. It is not about getting older. It is about getting better." And the 64-year old certainly practices what she preaches having entered her first NPC Body Figure Competition at the age of 60.
"There are several things that come with aging that are out of our control, but it is possible to delay the aging process by eating right and exercising," states Gantt. "You just have to make the decision to have a healthier lifestyle and stick to it."
Not a stranger to the struggle of being healthy and fit, Gantt was a sports mom who spent years driving her children to numerous swim practices and competitions. During that time, she spent many days grabbing meals from fast food chains, which eventually led to her packing on an extra 30 pounds and jumping three dress sizes. After several big life events including going through a divorce, Gantt refused to take on a victim mentality and instead decided to regain control of her life, health and fitness. She began walking laps around a high school track during swim practices and she noticed that the weight started to melt away.
"I literally began to take it one step at a time and immediately started to feel better and see physical results," says Gantt. "Eventually, I became addicted to working out and started going to the gym and meeting with a trainer when I was 56."
After transforming her body and mind, Gantt gained the confidence to enter the NPC Body Figure Competition in 2012 and 2013 and has since become a fitness enthusiast committed to transforming the lives of those 50 and over through customized health and fitness programs. This passion led her to the recent launch and release of her "Own Your Age," fitness DVD that features a set of seven workouts customized for beginners who can gradually begin to get back in a workout routine at their own pace, own time and own place. Designed to help disrupt the aging process, Gantt leads energetic and engaging routines that focus on improving flexibility, balance, strength, endurance and posture. From warming up and stretching to cardio and weights, "Own Your Age" is a simple, yet effective full body and age-defying workout available for $19.99 on Amazon. To learn more about "Own Your Age," see the workout plan, read testimonials and to view excerpts from the fitness video, please visit www.ownyouragefitness.com.
"Being a nurse for over 40 years, I have always had a passion for helping people overcome illness and daily health problems," said Gantt. "I have seen firsthand the many effects of making poor food choices and the lack of exercise, so I just want to use my professional and fitness experience to encourage those who are age 50 and over to own their age because it is not about getting older, it is about getting better."
About Lorraine Gantt Lorraine Gantt is the 64-year old founder and creator of "Own Your Age," a seven-part workout program to help the 40-plus disrupt aging through fitness. A registered nurse, certified personal trainer and certified weight loss specialist, Gantt has witnessed how having an active, healthy, positive and thankful lifestyle can positively transform lives. Seeing her clients, friends and family become fit and live a better, more enjoyable life are among her greatest joys. Lorraine is also the proud mother of three children ages 23, 29 and 48. To learn more about Lorraine Gantt and to see her before and after fitness pictures, please visit www.ownyouragefitness.com. Follow her on Facebook and Twitter @OwnYourAge and Instagram @OwnYourAgeFitness.