VAA Private Tour of Houston Makerspace Offers Glimpse of Unique Community Centered Studio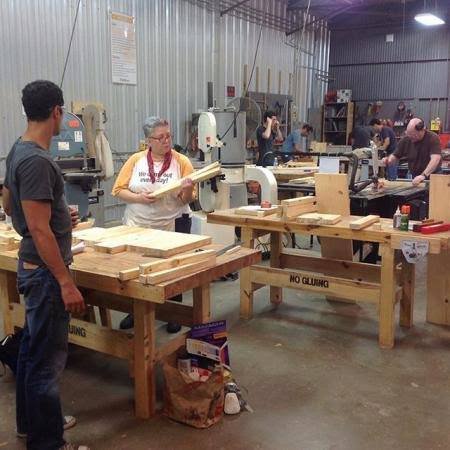 HOUSTON — Imagine a "gym" for creatives, with a month to month contract where artists and makers of all kinds can go and exercise their ideas and build their artistic muscles. East of downtown Houston, Houston Makerspace is exactly that. Join VAA on Saturday, June 4 from 10 to 11 a.m. for a private tour at Houston Makerspace, 3605 Texas Street, where members and non-members will learn about this unique community centered warehouse studio, which includes shops for woodworking, welding, printing, jewelry making, ceramics, as well as a teaching farm.
Houston Makerspace opened in April 2014 and moved to their new 8500 square foot warehouse a year later. Maclean Smyth, the founder and operator of Houston Makerspace, will lead this free tour. "I believe that creativity aspires innovation and ambition in our culture," Smyth says. "With this space, we can build a society of makers right here in Houston."
As part of its educational outreach, VAA presents monthly programs that are open to the public. There is no charge to attend any of the presentations and registration is not necessary. For more information, visit www.VisualArtsAlliance.org.
Visual Arts Alliance (VAA) is an educational organization for serious practitioners of the visual arts and interested members of the general public. Founded in Houston, TX in 1981, VAA is an all-volunteer-run, 501(c)3, nonprofit organization. In addition to educational and recreational programs, VAA also produces professionally juried art exhibitions providing opportunities for members and non-members to have their work professionally judged and viewed by the general public. For membership details and more information, visit www.VisualArtsAlliance.org.