The Power In The Beat: Celebrating African American Music Appreciation Month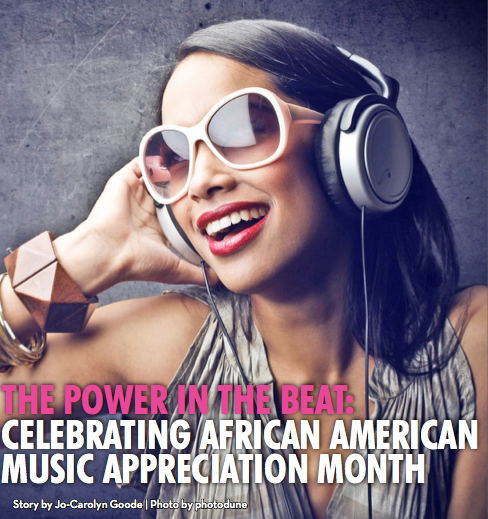 Music has power. Just one hint of a note to a song can trigger an emotional response. Music can calm a raging storm, move a people to act, help a country mourn and remind us all to laugh. Music is a transporter as it is the backdrop to many significant moments in our lives. Play a particular song and we instantly think of our first kiss, the day we received our degree, the birth of a child, or some other significant happening. Music is a timeline describing how life is lived and loss in our decades.
When it comes to African American music, there is just more punch behind the power. President Barack Obama knows the kind of impact African American music has made and is still making in our country. He recognizes that strength every June with the proclamation of African American Music Appreciation Month.

First recognized in 1979 after music lovers Kenny Gamble, Ed Wright and Dyana Williams successful lobbied then President Jimmy Carter for the month after the launch of Country Music Month. The trio wanted more attention for African American music and marketing dollars. Black Music Month was officially introduced on June 7, 1979. Black music would be recognized again in 2000 under then President Bill Clinton with the sponsoring of House Resolution 509 by US-Representative Chaka Fatta. Finally, President Obama would hold Black music's torch with the adoption of African American Music Appreciation Month to celebrate black musicians, composers, singers, and songwriters.
It is "the music that reminds us that our growth as a Nation and as people is reflected in our capacity to create great works of art." The official proclamation from President Barak Obama continues on to state that music "demonstrated how our achievements as a culture go hand-in-hand with our progress as a Nation."
One could look at President Obama's proclamation not just gives a reason as to why the month even exists but why the art is even appreciated to the extent that it is. Understanding that means to understand the power that is within the art form. The power comes from where the beat started. In Africa, music was just stories set to beats. Once people were chained and bound, music became people's voice when others tried to take it away through oppression. That is when music really got its meaning. Music became a tool of survival. One had to listen to know the path to take for the Underground Railroad to gain freedom and listen to words to know when trouble was coming. As time progress, African American music became a way of voicing our concerns on issues and the backdrop to protests. Today Black music still does all of those things while it entertains. This is why it is appreciated, why it is so relevant.
But there is still one question yet to answer, why is such a month still needed. The answer is simple, the undiscovered artist. Listen to music today and one might think we are all rich and fabulous or living the hard knock thug life. We need African American Music Appreciation Month so future artists will never forget the history behind the music and will always cherish and appreciate it. So when things get hard for them, they can look back to see hoe hard things were, and in turn pushed themselves to reach their goals. Young artists need to continue to use music for what it is for - to educate, engage, enlightened, and entertain.