Politicians React to Passing of Muhammad Ali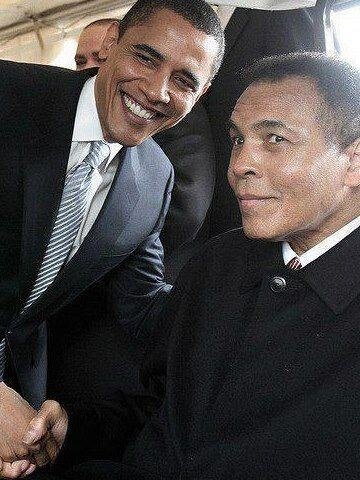 By Sophie Tatum
CNN
WASHINGTON (CNN) -- Muhammad Ali's death has the world remembering "The Greatest" not only for his athleticism in the ring but for his cultural impact and outspokenness on political issues, including civil rights and the Vietnam War.
Ali, 74, died Friday after a lengthy battle with Parkinson's disease.
President Barack Obama and first lady Michelle Obama said in a statement that Ali "shook up the world."
"And the world is better for it. We are all better for it. Michelle and I send our deepest condolences to his family, and we pray that the greatest fighter of them all finally rests in peace."
The President said he keeps a pair of Ali's gloves on display in his private study in the White House just under the iconic 1965 photo of Ali standing over Sonny Liston after knocking him out.
The Obamas added, "He stood with King and Mandela; stood up when it was hard; spoke out when others wouldn't. His fight outside the ring would cost him his title and his public standing. It would earn him enemies on the left and the right, make him reviled, and nearly send him to jail. But Ali stood his ground. And his victory helped us get used to the America we recognize today."
Former President Bill Clinton and former Secretary of State Hillary Clinton offered their condolences as well.
"We watched him grow from the brash self-confidence of youth and success into a manhood full of religious and political convictions that led him to make tough choices and live with the consequences," the two said in a joint statement.
Bill Clinton said he felt honored to award Ali the Presidential Citizens Medal at the White House.
"Along the way we saw him courageous in the ring, inspiring to the young, compassionate to those in need, and strong and good-humored in bearing the burden of his own health challenges," the Clinton's statement reads.
Presumptive GOP nominee Donald Trump immediately tweeted upon learning of Ali's passing.
"Muhammad Ali is dead at 74! A truly great champion and a wonderful guy. He will be missed by all!" Trump said.
Vermont Sen. Bernie Sanders said in a statement that "Muhammad Ali was the greatest, not only an extraordinary athlete but a man of great courage and humanity."
Senate Minority Leader Harry Reid, who was an amateur boxer in his youth and met Ali in 1972, called him "legend and a fighter in every sense of the word."
"He fought and won inside the ring and fought for equality and justice outside the ring," Reid said in a statement. "Ali taught us all about the value of hard work, tenacity and never giving up. He was an inspiration whose tireless work ethic, unmatched skills and supreme self-confidence made him the Greatest of All Time."
CNN's Steve Almasy and Ted Barrett contributed to this report.