Sustainable Church: A Biblical And Relational Book That Shows Today's Church How To Restructure And Use The Dynamics Of "Body Discipleship"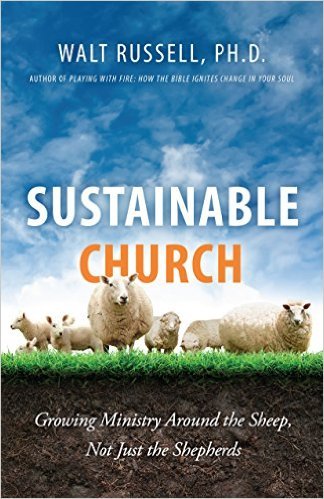 Orange, CA, June 07, 2016 – Sustainable Church: Growing Ministry Around the Sheep, Not Just the Shepherds, the new book by author Walt Russell (published by Quoir), reached top 100 status with Amazon.com in three categories upon its release on June 1, 2016.
Sustainable Church is a thorough, Bible-based exposition of how the ministry of every church should be organically built around all of the Spirit-gifted followers of Jesus within that local body. It critiques the shallow pragmatism and unsustainability of non-organic churches and biblically showcases the sustainability of the organic church. "Body Discipleship" is a key part of the church's sustainability and the author explains biblically how it corrects the model of discipleship that has been popular for the last 2-3 generations.
Additionally, Sustainable Church showcases the servant-model of biblical leaders who are supposed to equip the saints to do the work of leaders, who are supposed to equip the saints to do the work of ministry on behalf of Jesus, the true Pastor/Shepherd of every local church!
The book touches on critical aspects to help a church become "sustainable," such as:
› how we are thwarting the growth of most of the Church's organic parts: the saints
› how to be a local church without one single "lay person"
› how to equip the saints to discover, develop, and use their spiritual gifts in ministry
› how "Body Discipleship" is the biblical model of discipleship and the most dynamic and life-changing discipleship model the world has ever seen
› how the biblical model of local church leadership can, and should, be cultivating the Sustainable Church
About the Author:
Walt Russell lives in Southern California with his wife and two married children. His passion for the last 36 years has been teaching God's people and helping them to find their gifting and ministry role within the Body of Christ. He has planted two churches on the East Coast and taught the Bible in seminary for the last 28 years.
Available at fine bookstores and all online outlets
Sustainable Church
By Walt Russell
Paperback & e-Book 234 pages
Published by Quoir (June 1, 2016)
ISBN-10: 0991334582
ISBN-13: 978-0991334582
TIP SHEET:
John S. Dickerson (author of The Great Evangelical Recession): "If you seek to align more with the New Testament than with corporate strategy, these pages will refresh and reinvigorate you."
Barry Corey, Ph.D. (President of Biola University): "If you want to read a remarkable scholar of the New Testament and spiritual growth...read what Walt Russell has to say in Sustainable Church...My leadership has been strengthened through his words and his life."
Jamin Goggin and Kyle Strobel (authors of The Way of the Dragon or the Way of the Lamb: Searching for Jesus' Path of Power in a Church that Has Abandoned It): "Walt has dedicated himself to embracing Christ's call to be a sustainable and organic body of believers that grows deep as the whole body ministers together."
Brett McCracken (author of Hipster Christianity and Gray Matters): "At a time when the local church in western culture is facing new social, theological, and economic pressures, a sustainable model is more needed than ever. Anyone who cares about a thriving local church should read and share this book!"
Joe Hellerman (author of When the Church Was A Family): "Sustainable Church is both prophetic and educational. It may not be well received by those who are deeply invested in the ecclesiastical status quo. So be it. Those who have ears to hear, however, will find in Sustainable Church one of the most meaningful and biblically sound treatments of local church life and ministry available today."
Michael and Terri Sullivant (founders of Radius Ministries and New Hope Community of Kansas City): "Sustainable Church is a timely clarion call to reform and renew wisely the way we think about and engage in being Christ's Church."
Stan Jantz (bestselling author and Executive Director of Evangelical Christian Publishers Association): "'Why haven't we heard this before?' is a question you will ask many times as you read Walt Russell's much-needed book...And it's not just the church of the future. It's church we need right now."