Houston Educators Conquer Catering with Southern Recipes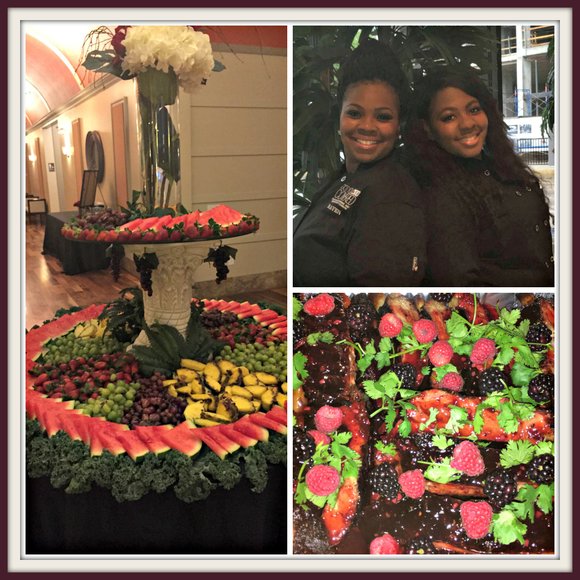 From the classroom to the kitchen, and on to any dining hall or special event "Got You Covered Catering" is serving their amped up version of classic southern cuisine. When Amberlyn Henderson and Raven Thomas met a few years ago they had more in common than their love for teaching and being with family. These ladies figured out quickly that their combined experience in the kitchen and working at very young ages fueled their passion to create a thriving catering business.
Got you Covered Catering is a full service and event planning company that offers customized menu planning, food preparation, logistics coordination, and venue decorating. According to their website, they are a "One Stop Shop".

Raven has 13 years in the education field; she has a Master's Degree in Social Work and in Education. She is a full-time mom, wife, Event Designer/Chef. Moreover, she started working in the kitchen with her godmother since the age of 11. She loves to experiment with a variety of textures and flavors in order to create a unique and memorable dining experience for the client.
Amberlyn Henderson is a Houston native but spent holidays and many summers in East Texas in the kitchen with her grandmother. She developed a passion for cooking and catering when she would see the light in the eyes of people who tasted what she'd created.
She is a mother of a dazzling 4 year old, Amariyah, has a Bachelor's Degree in Psychology from the University of Houston Clear Lake and has been working in the field of Education for 8 years.
Both Thomas and Henderson have not abandoned their jobs as educators as of yet; however, they are fully committed to creating and constructing great-tasting food while delivering supreme service to their clients. Their enthusiastic attitude regarding business is contagious; they are not afraid to work hard and there is not an event too big or small for them. They handle weddings, graduations, baby showers and corporate parties.
Furthermore, we discussed some of the dishes that are client favorites and their "Slow Smoked Raspberry Chipotle Ribs", are a big hit, along with the Cajun pasta. When asked about Vegan or Vegetarian options, Amberlyn replied, "we can do it if a client requests that type of service, but look I'm a Southern girl, and I cook food the way I have enjoyed it most of my life".

Finally, go to their website: http://gotyoucoveredcatering.com and look at some of the visually pleasing, mouth watering dishes in their photo gallery, you won't be sorry. Furthermore, let's keep up with their team by following their catering journey on Instagram and Facebook.
Thanks for reading and keep up with Team Style Magazine on Instagram, Facebook, and Twitter, give a shout-out to @houstonstyle and let us know what's going on in your part of our big city.