SEARCH Homeless Services Opens New Green Headquarters on June 13
Nonprofit moves to Eado, enhancing case management offerings from custom-built center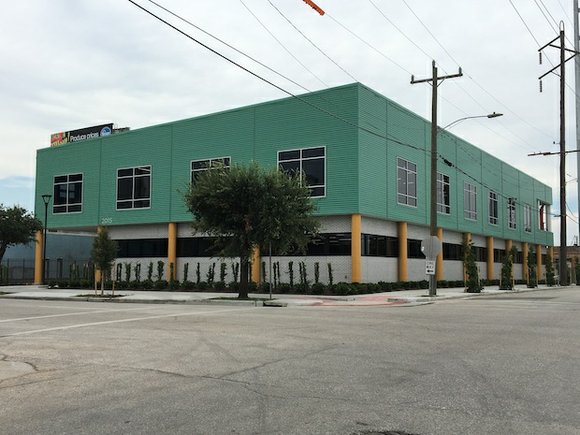 HOUSTON (June 13, 2016) — SEARCH Homeless Services celebrated the grand opening of its new Employment Services and Care Hub with a ribbon cutting ceremony on June 13, 2016. The new 27,105-square-foot facility, located at 2015 Congress Avenue, is custom designed and built to enhance the nonprofit's provision of skilled case management services, enabling it to better help homeless individuals and families in Houston exit homelessness and regain their independence.
Local businesses, including Studio RED Architects, Arch-Con Corporation, and Forney Construction, contributed to the new facility, which features a chapel, client counseling rooms, training rooms, a collaborative workspace, administrative offices, and an open terrace. The building also boasts environmentally-friendly upgrades, including a 65-kilowatt solar panel expected to cut annual energy by more than 50 percent and save more than $342,000 over the life of the system, LED lighting, and insulation, all donated by Green Mountain Energy Sun Club.
"We're blown away by the creativity and generosity of the Houston community, which has really come together to support our mission of ending homelessness," said Thao Costis, president and CEO of SEARCH. "This new building is perfect for us, providing infrastructure to help us better serve existing clients and access to help us reach others in need more efficiently…we're so grateful to the businesses, donors, volunteers, staff, and clients who have made it possible!"
SEARCH's "Of Course We Can" capital campaign that included private resources and public grants through the City of Houston Housing & Community Development Department and Texas Department of State Health Services funded the new facility, as well as a second House of Tiny Treasures, SEARCH's early childhood education program, which is set to open this summer in the Third Ward.
"It has been an amazing journey since the start of SEARCH nearly 30 years ago," said SEARCH Founder and Chairman Emeritus Shelly Cyprus. "Homelessness is still a serious issue, but through collaboration and partnerships, such as those that have made our new facility possible, we're so much closer to ending it for good…I'm excited to see where the next year takes us."
Houston Mayor Sylvester Turner, "Of Course We Can" Chair Doug Foshee, and SEARCH board members, corporate partners, individual donors, staff and clients will attend the ribbon cutting. Interviews will be available by appointment with SEARCH President and CEO Thao Costis immediately after the ceremony.
About SEARCH Homeless Services
SEARCH Homeless Services is a United Way of Greater Houston agency that helps thousands of men, women and children each year move from the streets into jobs and safe, stable housing. SEARCH pursues a mission of providing hope, creating opportunity, and transforming lives. SEARCH brings this mission to life by ensuring that its clients obtain permanent housing, increase their income, improve their health, and ultimately regain their independence. To learn more about SEARCH's mission and programs, visit www.searchhomeless.org/.