Best-Selling Sweet Wine Collection Now Available in Texas
New to Texas, three sweet, handcrafted wines will hit stores in June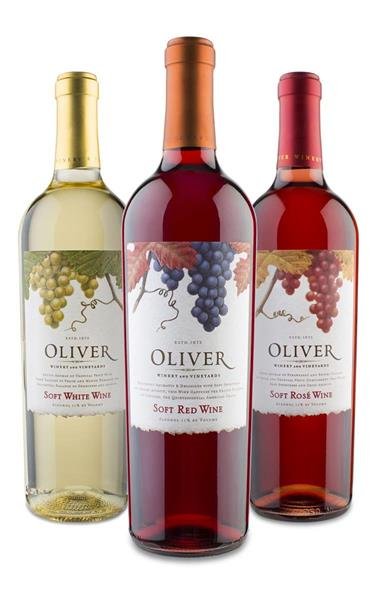 BLOOMINGTON, Ind., June 15, 2016 (GLOBE NEWSWIRE) -- This summer, Oliver Winery's Soft Wine collection will be available to Texas consumers.
Easy to sip, Soft Red, Soft White, and Soft Rosé are refreshing, light wines, with sun-ripened flavor and just enough sweetness. Warm weather months are the ideal time to enjoy these easy-drinking "porch wines."
The Soft Wine collection is crafted with painstaking care by a family winery, and the quality is palpable. "Soft Red may be sweet, but it's thoughtfully crafted," said Winemaker Dennis Dunham. "It's satisfyingly fruity, but balanced and fresh."
Soft Red is a sweet and luscious Concord wine. Its ruby color is complemented by a bright, satisfying finish. Soft Red Wine pairs well with everything – from burgers or dishes with Southern heat, to rich chocolate desserts.
Soft White is fresh and fun with a floral nose. Chilled, stainless steel fermentation retains the perfect sweetness. Tropical aromas and fresh peach and mango flavors are matched by a balance of sweetness and acidity.
Soft Rosé is refreshingly sweet for a rosé style wine. Fresh, bright strawberry flavors shine through in this crisp, light wine. Soft Rosé is great with summer salads or cheese plates. This rosé is perfect for brunches, tailgates, and other daytime festivities.
All three wines are 11% alcohol by volume and retail for $7.99.
Serve Soft Wines chilled, over ice, or with a splash of ginger ale as a spritzer. For Soft Sparkler and Soft Red Martini cocktail recipes, visit: oliverwinery.com/cocktails.
Oliver's Soft Wines have helped put the winery on the national wine map. Soft Red is the number one best-selling wine in the state of Indiana and a top seller in other Midwest states. "Sweet wine sales and sweet red blends are hot right now," said Chris Hibbert, Oliver Winery Vice President for Sales. "We've made Soft Red since the early 1980s, and since the first bottle it's had the same great taste and quality. You can depend on that consistent quality when you compare Soft Red to other sweet reds on the market."
The Soft Wine collection is one of Oliver Winery's seven product lines, which include BeanBlossom Hard Cider®, Orchard Stand®, Oliver Sangria Classic, Bubblecraft®, The Vine Series®, and varietals under the Creekbend Estate-Bottled and Flight Series labels.
About Oliver Winery & Vineyards
Oliver Winery is Indiana's oldest and largest winery. Since the brand was founded, in 1972, Oliver has become known for approachable and satisfying wines that capture the flavor of high quality fruit. Bill Oliver, president and founding family member of Oliver Winery, continues to lead the brand he built as one of the largest and most modernly equipped winemaking operations in the eastern U.S. Oliver Winery is a world-class destination, offering best-in-class service, beautiful grounds, and an approachable wine experience to thousands of visitors each year.