Pappas Delivers Major Donation to Support Texas Southern University Student Housing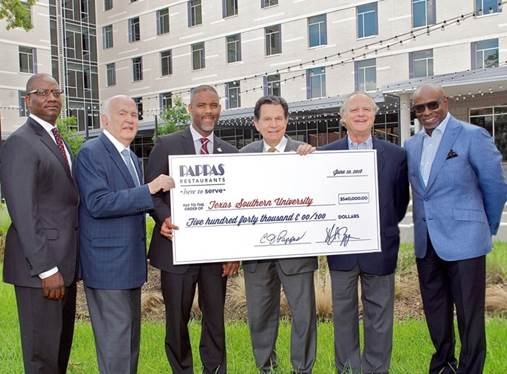 Pappas Restaurants announced that the company is donating $540,000 to Texas Southern University in support of its student housing initiative. Chris and Harris Pappas presented the check to Texas Southern President Dr. Austin Lane in a brief, on-campus ceremony June 10.
TSU is scheduled to open a new, 800-bed dormitory in August, complete with state-of-the-art technology, a rooftop garden, and first-floor retail space. The new dorm will be a major step forward as Texas Southern continues its First Generation program. First Gen is designed to provide academic, social and career guidance to incoming freshmen and sophomores to increase retention and improve graduation rates.
"Our University family is grateful for this generous gift from Pappas Restaurants as we embark on the next phase of providing a quality collegiate experience," said Dr. Austin A. Lane, president of Texas Southern. "TSU is dedicated to the total well-being and success of every student, including an optimum academic experience for all seeking higher education."
"On behalf of Pappas Restaurants, my brother Harris and I are proud to partner with Texas Southern University with this donation of more than a half a million dollars. The work that TSU does enriches not only the lives of the students on their campus, but also the entire Houston community. As native Houstonians, we strongly believe in supporting higher education in our hometown, and we are excited that our contribution will provide a place for students to live, study and support one another while pursuing a college degree," said Chris Pappas, co-owner of Pappas Restaurants.
Pappas Restaurants is committed to making a positive difference in the community and being a good neighbor. Pappas are proud sponsors of the Boys and Girls Clubs, local food banks, literary and education initiatives, especially those designed to help children or the disadvantaged and disabled, and other charitable endeavors. Pappas Restaurants include Pappadeaux Seafood Kitchen, Pappasito's Cantina, Pappas Seafood House, Pappas Bar-B-Q, and many others.