Active Shooter--Run, Hide, Fight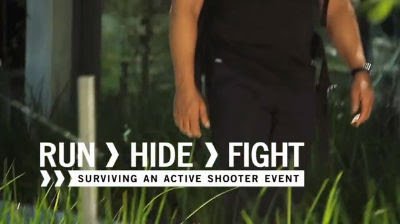 On Sunday, May 29, 2016, a shooting broke out in West Houston ending with two dead and six injured. The shooter is identified as Dionisio Garza III. According to police sources, the suspect previously served in the military and served several tours of duty overseas.
Garza, armed with an AR-15 and a pistol, began spraying shots at random around 10:15 a.m. Sunday. He shot and killed Eugene Linsomb, who died at the scene. Garza then retrieved an AR-15 and shot at passing cars and police vehicles. He also shot a line at the gas station, which caused the gas station to catch on fire. There were more than 185 shots fired, including five at HPD's chopper and a number of shots at the vehicles of responding Precinct 5 Constables and HPD officers. Thanks to the efforts of SWAT, HPD, the Houston Fire Department, and Harris County Precinct 5 Constables, the situation was controlled and the active gunman was shot and killed.
HPD Interim Chief Martha Montalvo thanked residents who opened their doors to strangers during the shooting and said that the death toll could have been much worse. Residents saw the shooter from home and alerted police.
Please take time to watch this award-winning video describing what to do if you find yourself in an active shooter situation:
Run
Have an escape route and plan in mind
Leave your belongings behind
Evacuate regardless of whether others agree to follow
Help others escape, if possible
Do not attempt to move wounded people
Prevent others from entering an area where the active shooter may be
Keep your hands visible
Call 911 when you are safe
Hide
Hide in an area out of the shooter's view
Lock the door or block the entry to your hiding place
Silence your cell phone (including the vibrate mode) and remain quiet
Fight
Fight as a last resort and only when your life is in imminent danger
Attempt to incapacitate the shooter
Commit to your actions...your life depends on it
HPD makes available to citizens of Houston "Surviving an Active Shooter" presentation which incorporates the above principals. This presentation may be arranged at no charge by contacting:
Stephen Daniel
Senior Community Liaison
Public Affairs, Houston Police Department
713-308-3246
Stephen.daniel@houstonpolice.org
This presentation is approximately 1.5 hours in length and incorporates several videos. The presentation is appropriate for all ages from high school students and older.
Crime Stoppers of Houston will hold a Safe Community Seminar in partnership with HPD on the topic of "Surviving an Active Shooter" on Tuesday, July 26, 2016, from 6:30 P.M. to 8:00 P.M. The seminar will be held at the Children's Assessment Center, 2500 Bolsover St., 3rd Floor, Houston, TX 77005. If you are interested in attending this free seminar, please RSVP to Sonia Soto at ssoto@crime-stoppers.org or 832-849-1588.