What You Should Know About Juneteenth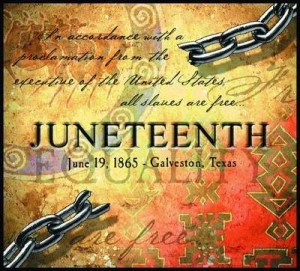 "Juneteenth is the oldest known celebration of the ending of slavery in the United States."
On June 19th 1865, the Union soldiers led by General Gordon Granger landed in Galveston, Texas with the news that the American Civil War had ended and the enslaved were now free. This came two and a half years after Abraham Lincoln's Emancipation Proclamation, but was unsuccessful in Texas due to lack of influence and enforcement of the new Executive Order.

Reaction to the news ranged from shocked to joyous and triumphant, with many anxious to leave their 'masters' and plantation. Moving north was logical option and symbolized true freedom for many. Others looking to reunite with family members headed for neighboring states Louisiana, Arkansas, and Oklahoma.

The celebration of Juneteenth was a time for reassurance, prayer and gathering. Slaves and decendants continued to make an annual pilgrimage back to Galveston in honor of this date of freedom. Traditional Juneteenth activities include baseball, fishing, barbequing and rodeo. Many of these traditions are still witnessed today. Education, prayer, and self-improvement were and still are heavily focused on during Juneteenth.
Al Edwards, Houston native and former member of the Texas Legislature is an advocate for the Juneteenth legacy. In 1979, Edwards founded Juneteenth U.S.A, an organization that celebrates 20 years of Juneteenth celebrations. Edwards is also best known as author and sponsor of House Bill 1016 making June 19th (Juneteenth) a state paid holiday in Texas. He is also Chairman of the Texas Emancipation Juneteenth Cultural & Historical Commission (a state agency established in 1998 for the preservation of Juneteenth, and for the Juneteenth Memorial monument at the State Capitol).
Today, Juneteenth continues to be a growing phenomenon. Communities and organizations continue to celebrate the holiday and support its recognition. Institutions like the Smithsonian and Henry Ford Museum have begun sponsoring Juneteenth-centered activities. Many organizations have arisen over the years with the mission to "promote and cultivate knowledge and appreciation of African American history and culture."
According to Juneteenth.com, "Juneteenth today, celebrates African American freedom and achievement, while encouraging continuous self-development and respect for all cultures. As it takes on a more national, symbolic and even global perspective, the events of 1865 in Texas are not forgotten, for all of the roots tie back to this fertile soil from which a national day of pride is growing. "
For more information on the history of Juneteenth and Al Edwards visit: www.juneteenth.com