2016 Buick Regal GS AWD: Classic History With A Sporty Attitude!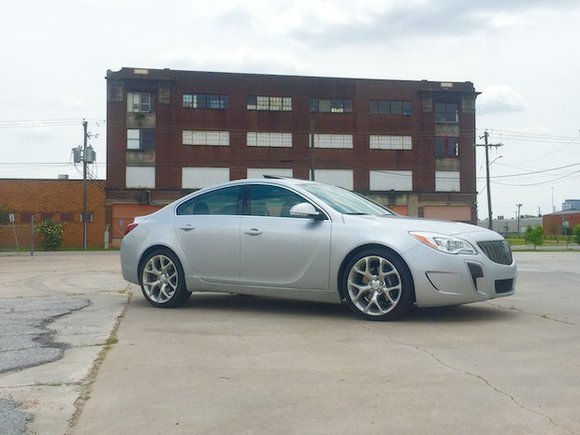 You've always known the Buick nameplate, but it just got better! The 2016 Buick Regal GS AWD is here to set the record straight about the Buick Brand. There is such a thing as Classy meets Sporty when it comes to their vehicle! Often stereotyped as the "older person car," Buick has definitely broken that barrier with its souped-up sport version of the Regal, and it tries to be a little less subtle about what's under the hood than its siblings. With its long list of standard features and relatively affordable pricing, the 2016 Buick Regal continues to offer good value compared to entry-level luxury sedans.
New for 2016, the base model steps back to a 2.4-liter engine from the Regal's past, while all models are afflicted with smaller rear seating. If you do not often have passengers this won't affect you, but if you generally car pool, this could be a deal breaker. Versus being a mid-size sedan family vehicle, we would more so recommend this vehicle for a college student, first time industry mover, or small families. Virtually every rival beats the Regal in this area when it comes to seating. Standard on all except the base 1SV trim level is a 2.0-liter turbocharged four-cylinder that delivers a competitive 259 horsepower making the Regal GS a fun drive! More so a sportier vehicle than its traditional classy past, the turbo model is a picker upper. At 19-MPG City and 27-MPG Highway, the turbo-4's fuel economy still lags the pack, but its peppy acceleration should please many drivers.
Additionally, every Regal comes well-equipped with items like leather seats and automatic climate control, plus an 8-inch touch screen infotainment system that boasts an enhanced interface and Apple CarPlay and Android Auto integration for 2016.
The tested 2016 Buick Regal GS AWD had an M.S.R.P. of $41,745.00. Adding to those mentioned above, the options on hand were rear vision camera, remote keyless entry, airbags (driver, passenger, side-impact, rear seat and side head curtain), remote vehicle start and stability control with traction control. One of our favorite safety features is the automatic collision breaking, allowing the car to brake itself when the front sensors react to a potential collision. Speaking of sensors, the fully loaded GS Trim includes reverse rear sensors and parking assistance front sensors. We cannot forget the added safety features like lane departure warning and front collision warning both able to be enabled or disabled by the drive.
Inside, the 2016 Buick Regal features a sleek dashboard with minimal button clutter making it much easier to navigate throughout the dash. The appearance is upscale keeping with the classy look, and materials quality is very satisfactory, if not fully luxury-grade giving the competitors like Acura and Lexus a run for their money. The standard 8-inch touch screen powers the IntelliLink infotainment system, which features large icons and Pandora radio compatibility for 2016. The IntelliLink interface includes smart phone-style swipe commands and voice-command functionality, and the touch screen's graphics are colorful and sharp. Buick includes the same screen on every model, as opposed to making you pay more for a premium display like many competitors, which is a plus!
With all the bells and whistles one may need in a vehicle, we are completely convinced the 2016 Buick Regal GS AWD is a winner. No matter the powertrain, all Regals ride smoothly, and the cabin remains remarkably quiet at top speed. In our opinion, the Regal excels in all of our categories while remaining to the brand of being composed and confident. Visit your local Buick dealership today to see this vehicle in person!
For More Information, Visit www.Buick.com or www.GMC.com