AboutThatCar.com: 2017 Hyundai Elantra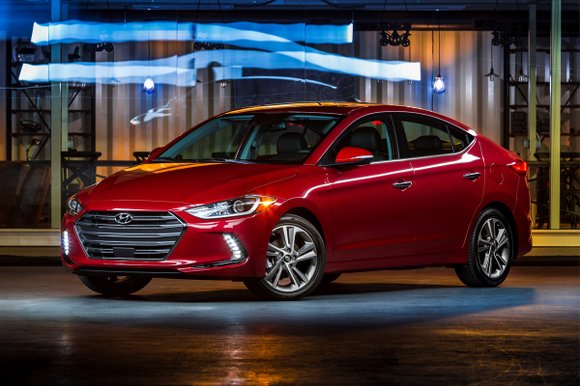 By Frank S. Washington
DETROIT – Earlier this year, Hyundai introduced the latest rendition of its Elantra compact sedan. The car had slicker exterior styling, more safety features, an upgraded interior and some user-friendly technology.
The exterior styling was pretty cool. It featured the new face of Hyundai, the hexagonal grille, LED daytime running lights, a first for the Elantra and a lower front fascia that gave the car a more muscular appearance.
Hyundai said underbody covers, an aerodynamic rear bumper bottom spoiler and rear deck lid gave the new Elantra a 0.27 coefficient of drag. We couldn't measure it but the car did seem awfully smooth on its treads. There wasn't that rough ride associated with a lot of small cars.
The new Elantra had several nice little touches like LED door handle approach lights, side mirror LED turn signal indicators and LED taillights. The new car was a little bit longer, by about an inch and a little bit wider, by another inch, than the car that it replaced. Just that little bit gave it sturdiness on the road.
The car had two engine choices; a 1.4-liter turbocharged four-cylinder is available. Our test car had the 2.0-liter engine that produced 147 horsepower and 132 pound-feet of torque. It was mated to a six-speed automatic transmission; a six-speed manual is available.
The 2017 Hyundai Elantra had an EPA rating of 28 mpg in the city, 37 mpg on the highway and 32 mpg combined.
This powertrain was really quiet. There was not any noticeable engine vibration. And the power-plant could move the 2017 Hyundai Elantra smartly. Contrary to what you might think, it doesn't take a bunch of oomph under the hood to maneuver around most urban streets and expressways. The Elantra had more than enough.
The interior was comfortable. Never did we feel cramped, even in the back seats. Because we had the Limited trim level, our seats were leather, make that some sort of pleather. But they were nicely done. Of course, cloth seats are available. Either or, all of the Elantra's seats are made of SoyFoam™ that substitutes for petroleum based polyol.
The seats were soft without feeling cushy or mushy. There was plenty of lumbar support in the car's front and back seats. The dash was padded with soft touch material and the instrument layout was ergonomically correct.
There was a 4.2-inch TFT screen between the odometer and speedometer. What Hyundai chose to call a center stack really leans toward a horizontal layout. Below the information screen was the dual climate controls.
That was just the beginning of the equipment surprises. Our test car had heated front seats and blind spot alert and a drive mode selector with sport, eco and normal settings. There was a 7-inch touch screen with a rearview camera. The car had ApplePlay and Android Auto.
It had what is turning into the usual creature comforts: Bluetooth, satellite radio, voice controls and a power driver's seat were part of the package. The driver's power window was fully automatic but the other power windows worked the old fashioned way. You had to hold the button to make them go up or down.
The car had USB jacks at the base of center stack and two 12 volt plugs as well as an auxiliary jack. There was also a USB jack for charging in the center console. It could link up with Pandora on your smartphone.
About the only quibbles we had was there was no navigation system; it's an option, and the rearview mirror would not automatically dim. We had to dim it manually.
Still, for $23,310 we thought the 2017 Hyundai Elantra Limited was well equipped, a smooth operating compact sedan and an excellent buy.
Frank S. Washington is editor of AboutThatCar.com.