Pride Parades: U.S. Cities Mark Events Amid Tight Security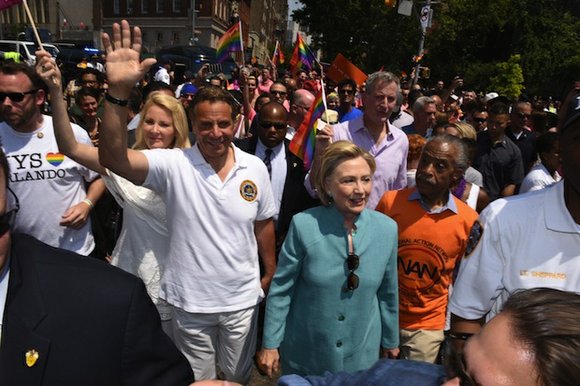 Revelers in London and Milan, Italy took to the streets Saturday in brightly colored outfits to celebrate and pay tribute to the Orlando victims.
"The parade is festive and multicultural like never in the past years," London parade attendee Carlo Feudo told CNN. "This time we do need to be standing all together against hate and discrimination."
Events in New York and Chicago kicked off with moments of silence for victims of the Orlando shootings, a reminder that despite progress for LGBT rights "there is hate in the world," Chicago Mayor Rahm Emanuel said.
The City of Orlando marched in New York's parade carrying 49 flags to commemorate the victims of the attack. Another group of 49 people marched in white in their honor.
An NYPD car bore the message "Our heart goes out to Orlando."
U.S. Rep Tammy Duckworth, who lost her legs in the Iraq war and uses a chair for mobility, rolled through the streets of Chicago with pride.
The annual tradition of marriage proposals continued in two countries.
In London, at least two couples got engaged. One was a pair of Metropolitan Police officers marching in the parade; another was an officer who broke ranks to propose to a crowd member.
In New York, two members of the FDNY got engaged to cheers from onlookers.
Barbara Poma, owner of the Pulse nightclub in Orlando, attended New York's event. She hoped the parade would allow members of the LGBT community to comfort each other through love and support.
"Orlando and the world's gay community are strong and united. We will not allow evil to prevail," she said.
CNN's Jareen Imam and David Shortell contributed to this report.