Today's 5 Things: Brexit. Pope Francis. West Virginia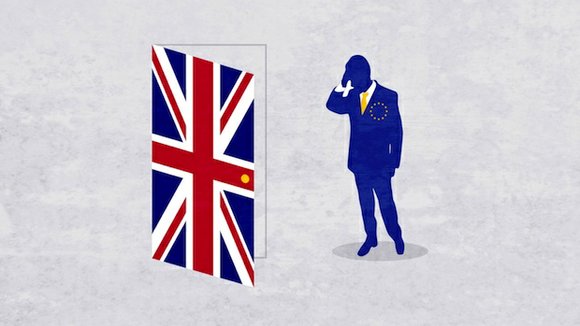 By Doug Criss
CNN
(CNN) -- The break up begins. But the dry out's interrupted. It's Monday, and here are the 5 things you need to know to Get Up to Speed and Out the Door.
1. Brexit
The messy business of untangling the United Kingdom from the European Union begins. The leaders of three EU countries -- Germany, France and Italy -- will huddle today in Berlin, ahead of EU meetings on the Brexit this week. The timing of Britain's exit is an issue. The Brits want to take their time, but some EU countries want them out as soon as possible. Financial markets worldwide continued to tumble, while Britain's government fell into utter chaos.
2. West Virginia floods
It's not over. After catching a break yesterday, West Virginia preps for more flooding today as a cold front brings showers and thunderstorms. The state is struggling to recover from some of the worst flooding in its history. The floods killed at least 25 people, washed away homes and businesses and knocked out power. Resident have started to return to what's left of their homes to clean up and pick up the pieces of their lives.
3. Pope Francis
"Groundbreaking" and "an immense blessing." That's the reaction from some Catholics after Pope Francis said Christians should apologize to gays and others the church has offended or exploited in the past. No pope had ever issued such an apology to the LGBT community. Francis didn't change church doctrine -- which considers homosexual activity a sin -- with his remarks, but it falls in line with his famous "who am I to judge" comment about gays from three years ago.
4. Pride celebrations
Tight security and tributes marked Pride celebrations across the country this weekend, just two weeks after 49 people were killed by a gunman at a gay nightclub in Orlando. Extra police, helicopters and bomb-sniffing dogs were spotted at New York's Pride parade, while security checkpoints were used for the first time at San Francisco's events. Orlando cast a long shadow over the events, many of which started with a moment of silence for the victims.
5. California rally violence
White supremacists faced off with counter-protesters Sunday in California. It went about as well as you'd expect. At least 10 people were hurt after a brawl involving knives, bottles and bricks broke out between the two groups during the supremacists' rally at the state capitol.
BREAKFAST BROWSE
People are talking about these. Read up. Join in.
Messi's miss
Superstar Lionel Messi took Argentina's Copa America finals loss to Chile (and his missed penalty kick) hard -- he's thinking of quitting international soccer.
Game of spoilers
We won't spoil last night's "Game of Thrones" season finale for you, just know this -- the show's end is now clearly in sight.
That sinking feeling
Parts of Beijing are sinking up to 4 inches a year, thanks to the thirsty city depleting its groundwater sources.
Walk on water
A piece of pop-up art in northern Italy's Lake Iseo lets you skip across a saffron-colored walkway that floats on top of the waves.
Going down
If you're going from the 70th to the 69th floor in L.A.'s U.S. Bank Tower, skip the elevator and the stairs. Just go outside and slide down a chute of glass.