Drake Is Worth About $3 Billion To Toronto, Study Says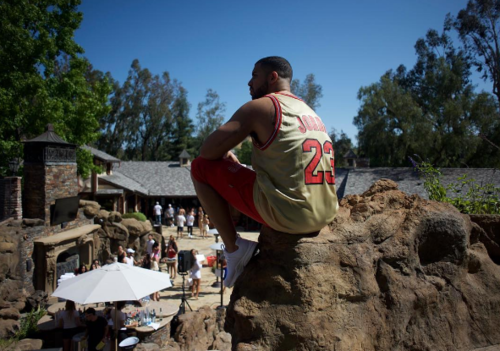 Toronto was hardly a blip on the hip-hop map before Drake came along. In fact, the city's presence in pop culture -- and even in sports, too -- has greatly increased since he decided to put the 6 on his back. The 6 God loves his city, and it loves him back, but just how well Toronto fared under the focused diplomacy of one of the world's biggest pop stars? Well, the Toronto Star has deduced that Drake has effectively gifted his city with a level of exposure that's worth an estimated $3 billion.
Drake's latest album, VIEWS, which is currently sitting at No. 1 on the Billboard 200 for the seventh week in a row, has arguably been the most effective promotional tool he's given to the Ontario capital. The album cover, one of the year's top meme generators, shows a mini-Drake sitting on top of his city's most famous landmark, the CN Tower; it's basically a tourism poster that has been seen by more eyes than the local government can ever dream of reaching. The article also suggests that Drake's global ambassadorship for the Toronto Raptors -- an official position -- has greatly boosted the exposure of the team and, hence, the city itself. Though there's not an exact breakdown of all the numbers incorporated into the study, the Star did enlist a research team at ZenithOptimedia, a Toronto-based "media buying agency," to develop a formula that would lead to a reliable estimate on exactly how much Drake, at his current status, is worth to the city. Some of the factors that were studied include his "cumulative YouTube views, his social media followers, and his appearances in conventional media," such as when he hosted SNL last month.

ZenithOptimedia calculated the total number of impressions that Drake has access to in instances when he mentions Toronto, and the company reported that it would cost roughly $300 million for an advertiser to have a chance of attaining a similar level of global reach.
Kristine Lyrette, the president of the agency, however, doesn't equate Drake's efforts to put on for his city as an obvious form of self-promotion -- even though that may be the result. She claims that Drake, for now, has a priceless "cool factor," and that he's been able to grant Toronto so much buzz because his hometown dedication comes from a real place. "Genuine and sincere intention is half the battle in gaining trust with the public," she says.
Another reason for Toronto's increasing visibility is that it's a young city without an established reputation. Thus, Drake, as the city's most famous public figure, has a powerful role in shaping Toronto's image in the eyes of the world. "So what Drake is doing is awesome really, because he is creating that identity for us on the global stage," said Gabor Forgacs, associate professor at the Ted Rogers School of Hospitality and Tourism Management.
The article comes to the conclusion that Drake is easily one of Toronto's most powerful assets in boosting its desirability and, thus, its income -- right now, that is. His value could dramatically fall once his cool factor begins to wear off, if that ever happens. "But it's important to keep perspective," says Lyrette. "Maybe if his last album flopped, we wouldn't be having this conversation at all."
For more information go to http://www.hotnewhiphop.com