USA to Face Series Champions in Rio Olympic Games Pools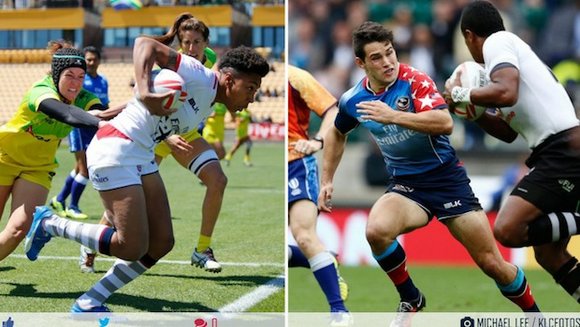 RIO DE JANEIRO - The pool draw for the men's and women's Rugby Sevens competitions at the Games of the XXXI Olympiad - the Rio 2016 Olympic Summer Games - took place Tuesday.
Both of Team USA's representatives are pooled with 2015-16 HSBC World Rugby Sevens Series champions, with Mike Friday's men's team in Pool A with Fiji and Richie Walker's women in Pool A with Australia.
Though the 12-player Olympic squads have not yet been announced, athletes in the Men's and Women's Eagles Sevens selections pools are currently in the final stages of Rio preparations at the United States Olympic Committee's Olympic Training Center in Chula Vista, Calif. The announcement of the Olympic pools is the latest in many milestones for the sport of rugby since the seven-a-side version of the sport was added to the Games Program in 2009.
Along with Fiji, Friday's men will face South American qualifier Argentina and Games host Brazil when the competition kicks off at Deodoro Stadium August 6. The U.S. won one of two matchups with the Argentinians during the latest Sevens Series, but did not face Brazil in its sole appearance on the circuit.
"We are very much looking forward to the challenge of Pool A, and it will be a tough one," Friday said. "We are under no illusion of how all these teams play, and will be ready and eager for the opportunity and challenge ahead as we know we will have prepared thoroughly and will have also developed our own game on both sides of the ball.
"Whilst we respect all three of our group opponents, we will fear none of them, as we have a great balance and blend of power, pace, and physicality to our squad."
The women opened the most recent Series with a defeat to Fiji, but will go into the Pool A clash in Brazil on a 3-0 winning streak against the Pacific nation. Australia won both of its meetings with the U.S. this year on the way to winning three of the five tournaments, while Colombia went winless in five matches at HSBC Atlanta 7s.
"Having the Series champions and No. 1 team in the world right now in our pool is really good for us to be able to play against the best in the pool stages and see how we match up," Walker said. "We will train hard and have a purpose in our camp knowing it'll take beating the best to win our pool, so that is extra motivation.
"But we are also preparing for all of our opponents, because it can change up our game plans and strategies as all three teams play differently. It is my job to make sure we prepare for everyone evenly and not pay too much attention to just one."
The match schedule for the August 6-11 Rugby Sevens competition at the Rio 2016 Olympic Summer Games will be announced by the International Olympic Committee in due course. Team USA rosters will be announced on USARugby.org Monday, July 18.
About USA Rugby
Established in 1975, USA Rugby is the governing body for the sport of rugby in America and a Full Sport Member of the United States Olympic Committee. Currently headquartered in Boulder, Colorado, USA Rugby is charged with developing the game on all levels and has more than 100,000 active members, with more than 35,000 playing collegiate rugby and 35,000 playing senior club rugby. USA Rugby oversees four national teams, multiple collegiate and high school All-American sides, and an emerging Olympic development pathway for elite athletes. It also hosts more than 30 national playoff and championship events each year as a service to its members. In October 2009, the International Olympic Committee announced Rugby Sevens (the seven-a-side version of the game) will appear in the 2016 Olympic Games to be held in Rio de Janeiro. Visit www.usarugby.org for more information.