Rapper David Rush Talks Battling Kidney Failure & Being Forever Thankful For His Big Brother
Exclusive Interview with David Rush for BlackDoctor.org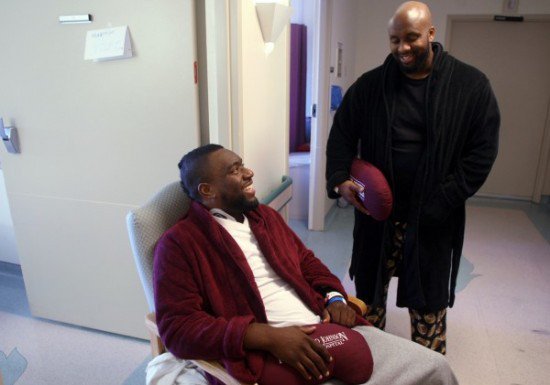 As a teen playing football at his New Jersey high school, rapper David Rush couldn't understand why his socks would sometimes feel too tight around his ankles.
He figured the high socks he wore just weren't the best fit for his growing lineman body. So, he resorted to wearing ankle socks. But that wasn't the only thing happening to the young man.
During workouts, he sometimes gasped for air more than usual. In the mornings, he would feel a bit sluggish. Also, he sometimes had a weird taste of metal in his mouth.
Unbeknownst to him, Rush was in the early stages of kidney failure.
"We went for a normal physical one day and they spotted blood and protein in my urine," Rush said. Protein in the urine is one of the many signs of chronic kidney disease, according to the National Kidney Foundation.
A kidney biopsy showed more internal issues – scarring of the tissue. But his doctor didn't make a big deal out of it, he said. The physician suggested Rush diet and drop some weight.
"I wasn't able to play football my 10th grade year," Rush, 33, said. "They were afraid that maybe something with the kidneys was going on."
Rush returned to football his junior and senior years, and left for the Art Institute of Atlanta, where he studied media and video production. He felt fine. So, to him, his kidneys were OK.
It wasn't until his girlfriend asked him to come visit her at her job at a New Jersey internal medicine clinic that things took a turn for the worse. After his girlfriend, a medical assistant, took his blood and urine samples, she soon discovered that he was in late stage 3 of kidney failure.
"What the hell is going on?" Rush remembered thinking when he was admitted into the hospital after his girlfriend's discovery. He was 24 at the time. "I was in there for about a good week and a half, and scared to death. I left there and that's when I saw a specialist and he told me, if you don't get on dialysis in a year, you may not be one of the lucky ones."
Kidney failure – sometimes referred to as renal failure – is the gradual loss of the organ's ability to function. When this happens, according to the National Kidney Foundation, bodily wastes can build to high levels in the blood and lead to complications like high blood pressure, anemia and nerve damage.
African Americans are three times more likely to suffer from kidney failure. And Black men are the most at risk, experts say.
"There's a clear disparity in outcomes of African Americans in comparison to the white population," said Dr. Jose Morfin of the UC Davis School of Medicine. African Americans are five times more likely to have end-stage renal disease than whites, Morfin continued.
"I think education [and outreach] is crucial… as important as being able to provide treatments," Morfin said.
After passing out at home while talking to his sister in March 2007, Rush went to the hospital. When he woke up, he had a catheter in his chest. It was the start of his dialysis regime. From that point on, he spent anywhere from 15 to 18 hours a week at a dialysis center, hooked up to a machine that would clean his blood of toxins and other wastes that his kidneys couldn't clean out on their own.