Half of Community College Students Confront Mental Health Conditions
1 in 2 students surveyed in new study reveal current or recent mental health challenges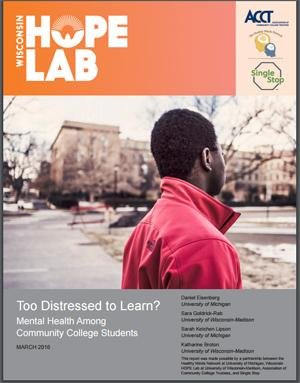 March 2, 2016--Washington, D.C.--The Association of Community College Trustees (ACCT), in collaboration with the Wisconsin HOPE Lab, the Healthy Minds Study, and Single Stop today announced the release of Too Distressed to Learn?, a new research report that assesses mental health among community college students. Authors Daniel Eisenberg, Sara Goldrick-Rab, Sarah Ketchen Lipson, and Katharine Broton conducted a survey of more than 4,000 students at 10 community colleges in California, Louisiana, Pennsylvania, New Jersey, New York, Wisconsin and Wyoming that underscores the need for greater mental health services for students.
"Campus shootings make headlines, but there is a much broader public health issue--the millions of undergraduates struggling with issues like depression and anxiety," said Daniel Eisenberg, a researcher at the University of Michigan's School of Public Health and Institute for Social Research.
"Unlike many four-year university students, the majority of community college students have to work to support themselves and often their families at the same time they pursue their educational goals," said ACCT President and CEO J. Noah Brown. "Balancing time, financial and family pressures can take a great emotional toll-and many community college students often don't know where to turn to find the help that they need. Students' physical and emotional wellbeing must be maintained so that they can succeed academically, and it is our responsibility to do what we can to support them."
According to the report, almost 50 percent of students surveyed had a current or recent mental health condition. Among the findings:
Depression (36%) and anxiety (29%) were the most common conditions.
Rates are higher among community college students than for students at four-year institutions, and this disparity persists within age groups. For example, among students age 25 and younger, 56% of community college students reported symptoms of a mental health condition, compared to 46% of students at four-year colleges and universities. The difference is especially evident for severe depressive symptoms: 23% of community college students age 25 and younger reported these symptoms, compared to 11% of four-year students in this age group.
Within community college populations, mental health conditions appear more prevalent among students age 25 and younger when compared to older students (56% vs. 42%).
Unfortunately, fewer than half of the students suffering a mental health condition are getting mental health care. The vast majority of community colleges (88%) do not have a psychiatrist or other licensed prescriber on staff or contracted to provide services, and 57% do not offer suicide prevention resources or programming. The ratio of counselors to students at community colleges is 1 to 3,000, compared to 1 to 1,600 at four-year institutions.
Too Distressed to Learn? shines a glaring spotlight on the prevalence of mental health challenges among community college students and describes changes that community colleges and federal and state policymakers can implement to address this issue.
There are many opportunities for partnership and support, several of which are detailed in the white paper. For example, Active Minds, a national organization of student mental health advocacy groups, has chapters at many community colleges that harness the power of student voices to educate and advocate in campus communities. The Jed Foundation's Campus Program partners with community colleges to help them conduct an internal assessment of their programs, services, and opportunities for improvement. Organizations such as Single Stop can help students on campus access a wide array of public benefits such as Medicaid and subsidized health insurance in the individual health insurance exchange markets created by the Affordable Care Act that empower them to access mental health services.
"Many community college students often don't know where to turn to find the help that they need," said Christy Reeves, CEO of Single Stop. "Students need not only financial support but also emotional and mental health support to succeed in school."
Improving the mental health of community college populations is a primary area for investment for policymakers. Doing so can break the self-perpetuating cycle of poverty and inequality experienced by too many Americans, and passed from one generation to the next.
For more information, visit www.acct.org