Ahead of Florida, Jeb Bush still weighing Marco Rubio endorsement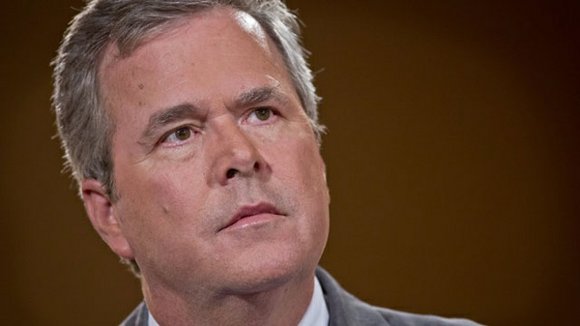 As rivals, Jeb Bush repeatedly called Marco Rubio a "backbench" senator of little accomplishment, accused him of "cutting and running" on the Gang of Eight immigration bill, and suggested he has nothing in his background that would indicate he could make a "tough decision."
Now the former Florida governor, who dropped out of the 2016 race last month, has to decide whether he's going to endorse his former opponent ahead of Florida's all-important primary on March 15.
A former Bush campaign official who asked not to be identified to speak more freely believes it's a "possibility" Bush will endorse Rubio, especially if Bush thinks it can "make a big difference and slow Trump down."
The former campaign official said an endorsement would not be awkward, even though things between Bush and Rubio got ugly toward the end of Bush's campaign.
"I think the governor was pretty straight about it, that he always said, 'This is my view on (Rubio's) experience and accomplishments, but he's a friend.' I think the governor's a big enough of an adult to forget that stuff. I don't think that's going to keep (an endorsement) from happening," the former campaign official said.
At the same time, this source also thinks that an endorsement from Bush isn't something that's going to make or break Rubio's bid in Florida.
"It's a lot more hype than real tangible votes," the source said, adding that Rubio is capable of winning Florida without Bush's help.
Ana Navarro, a former Bush supporter and friend of Rubio's, said she's not sure a Bush endorsement would mean much. In an email, she noted that Rubio was endorsed by Gov. Nikki Haley in South Carolina, Gov. Sam Brownback in Kansas, Gov. Bobby Jindal in Louisiana -- and lost all three states.
"Just doesn't feel like endorsements matter as much this cycle," Navarro, a CNN contributor, said.
Two Bush advisers who asked not to be named also said Bush has not made a decision yet.
"Jeb is watching and waiting," one adviser said. "Endorsement not committed or imminent."
Florida, with its 99 delegates, is widely considered Rubio's last stand. He's confident he can win his home state, but he faces a tough challenge against the current front-runner, Donald Trump. A Quinnipiac Poll released late last month showed Trump with a double-digit lead over Rubio in Florida, 44%-28%.
Texas Sen. Ted Cruz is also making a play for Florida, mostly to thwart any momentum for Rubio in an effort to narrow the race to a two-man contest between Cruz and Trump.
An endorsement from Bush, who left his second term as governor in 2007 with a 64% approval rating, would generate significant buzz, and some believe it could help tip the scales for Rubio.
Bush had the overwhelming majority of support from elected Florida officials over Rubio when he was still a candidate, including eight of the current and former House speakers -- a fact that Bush made sure to tout on the campaign trail.