Service "Philanthropy Drives Rolls-Royce Dealer Thomas Moorehead"
Cherylyn Harley LeBon | 3/8/2016, 8:38 a.m.
The only thing harder than making a fortune is giving it away wisely, says the world's first black Rolls-Royce dealer.
Thomas Moorehead's modest childhood in segregated Monroe, Louisiana, offered no clue to the luxury he eventually would market to others and savor himself; nor did his preparation for academic life. Moorehead was just a few credits shy of his Ph.D. in social work at the University of Michigan when a fraternity brother named James Bradley offered him a surprising challenge: Go sell cars.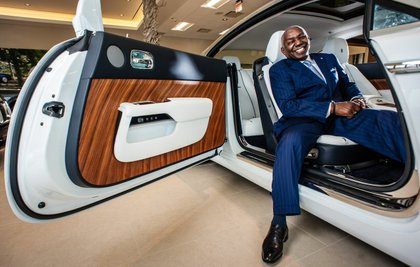 "I thought car dealers represented an image that didn't fit me: big plaid jackets, they smoked cigarettes and talked fast," Moorehead says to Urban News Service. But Moorehead gave this opportunity some thought. He visited Detroit, toured dealerships and changed his mind. "I really felt like I had walked on Wall Street," Moorehead says. "I saw well-dressed men in nice suits and bow ties doing really great things."
Thanks to Bradley's ongoing guidance and his own strenuous effort, Moorehead thrived in his unexpected profession. He sold Buicks, Isuzus, BMWs and even MINI Coopers. Rolls-Royce executives eventually noticed his track record and signed him in 2013 as their first black dealer, based in Sterling, Virginia — a Washington, D.C. suburb.
Moorehead began expanding beyond automobiles in 2006. He acquired the first of six hotels, the Marriott Residence Inn in National Harbor, Maryland. His real-estate portfolio now includes more than 40 properties.
As Moorehead's businesses flourished, his family's appreciation for education stayed top of mind. In 2004, Moorehead and his wife established the Joyce and Thomas A. Moorehead Foundation to support students, families and nonprofit organizations in northern Virginia. Moorehead is especially proud of the foundation's $1.4 million, so far, in Gap Scholarships for students at two- and four-year colleges.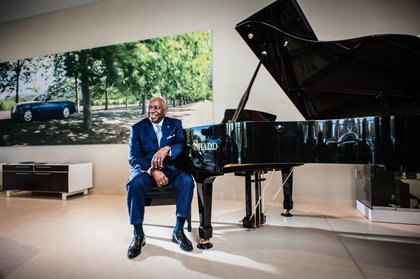 "What we found is that scholarships are available for the first and second years, but junior and senior year are even more important," says Moorehead. "We provide scholarships for those students in their junior and senior years to ensure that they are able to remain in college."
He remembers a young woman whom the Mooreheads backed as an undergraduate. They remained in close contact and even attended her college graduation. The Mooreheads met the young woman's mother, who had been released from prison.
Their beneficiary wanted to attend law school, but tuition was beyond her reach. So, she asked for the Mooreheads' help. Thanks to the foundation, and her own persistence, this young woman will graduate law school next spring.
Moorehead believes she is one of the reasons why boosting education is key to the success of black youth. "Black children are no longer a priority," Moorehead says. "Education is the one thing that will allow us to compete. When others are asleep, you have to continue to work."
Several scholarship recipients offer testimonials on the Moorehead Foundation's website:
"Throughout my time at Spelman College," says Ashley Jones, Class of 2013, "I would wonder where the funding for my next semester would come from. Until one day, the Joyce & Thomas Moorehead Foundation gave me hope ... I could never say thank you enough." Jones now attends the University of D.C.'s David A. Clarke School of Law.