Ben & Jerry's adds three new flavors and they sound amazing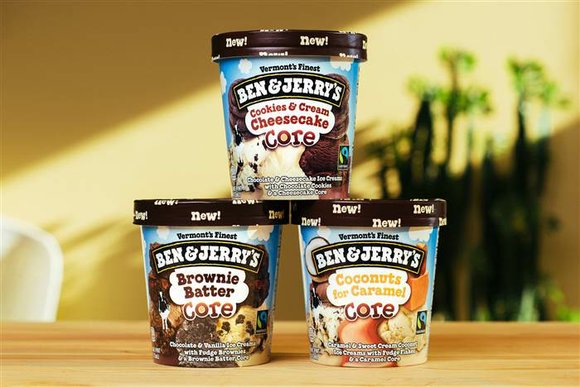 The flavor gurus at Ben & Jerry's are back at it!
With ice cream weather just around the corner, the famed Vermont creamery has added three new pints to its popular "Core" series. (If you need a quick refresher, that's the extra dreamy one with columns of fudge, caramel or speculoos cookie butter running down the middle of each pint.)
To concoct the new trifecta, the ice cream kings dug deep into our childhood dreams — or at least that's where we think they found them judging by the names: Brownie Batter, Coconuts for Caramel! and Cookies & Cream Cheesecake.
Here's a breakdown.
Brownie Batter: One side chocolate, the other vanilla, both studded with fudgy brownies from Greyston Bakery and joined a brownie batter core.
Coconuts for Caramel!: A tropical treat with caramel and sweet cream-coconut ice creams split by a pillar of gooey caramel.
Cookies & Cream Cheesecake: The most decadent of the trio, it calls for chocolate and cheesecake ice creams with bits of cocoa cookies, plus a creamy cheesecake center. Swoon.
Winter has been a busy time for the dessert gurus — just last month, Ben & Jerry's jumped on the dairy-free bandwagon with a line of Hoda-approved vegan ice cream.
Think you've got what it takes to dream up the brand's creative frozen desserts?
Well, here's your chance. B&J is looking for new flavor gurus to help with global ice cream domination — er, expansion. Sure, you'll need a degree in food technology and experience developing ice cream, but unlimited scoops and trips to the Vermont factory? Count us in.
For more information go to http://www.today.com