League Launches Super Bowl High School Honor Roll Initiative National Football League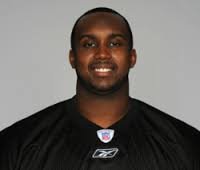 Alief, TX, March 11, 2016: Tony Hills, a former Pittsburgh Steeler | Alief Elsik graduate will sign the ball at Alief Elsik High School on Friday, March 11, at 10:30 a.m.
High schools across the nation, and around the world, received a commemorative Wilson Golden Football for every player or head coach who graduated from the school and was on an active Super Bowl roster. The NFL launched the Super Bowl High School Honor Roll initiative, recognizing schools and communities that contributed to Super Bowl history and positively impacted the game of football.
Hills has also played with the Denver Broncos, Indiana Colts, Dallas Cowboys and most recently the New Orleans Saints.
Hills who is now in negotiations with the Saints, plans to make his legacy in the Alief community by getting involved in giving back. Tony Hills will also tour the school with his wife and two sons and speak with former and current teachers, coaches and administrators.
Nearly 3,000 players and head coaches and more than 2,000 high schools will be recognized.
More about Tony: http://www.nfl.com/player/tonyhills/258/profile