HISD 'Secondary Teacher of Year' Lopez says HCDE Teacher Alternative Certification helped shape his career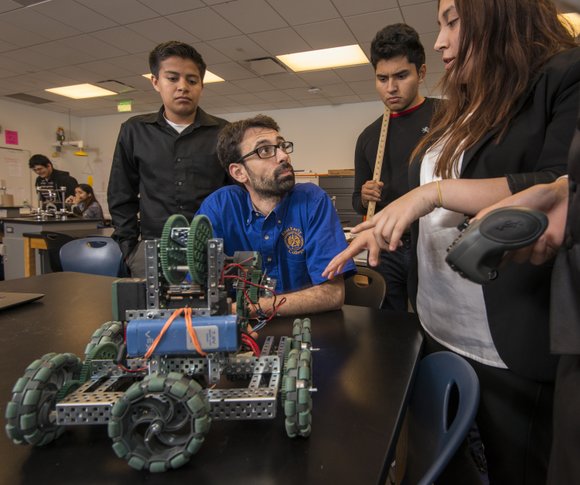 Houston Independent School District "Secondary Teacher of the Year" Vladimir Lopez earned his title of distinction in the largest school district in Texas less than five years after entering the field of education.
The science, technology, engineering and math teacher believes the equation to becoming a good teacher is to believe in the power of education to change lives. That transformation began for him in 2010 when he joined the Harris County Department of Education Teacher Alternative Certification Program.
The Spain native who had earned a science degree in his country moved to the United States in 2010. Though he wanted to become a teacher, the American education system was foreign to him.
"I was guided all the way by the HCDE certification program," he said.
The HCDE Teacher Alternative Certification Program trains college-degreed candidates to become teachers and helps them gain their teacher certification to work in Texas public schools. Throughout the process they are paid teacher interns. Grant funding for tuition reimbursement is available.
Vladimir worked with veteran educators who lead the HCDE teaching program to gain teaching and classroom strategies and understand the Texas education system. Eventually he became a teacher at Madison High School in HISD. Later he moved to HISD's East Early College High School.
Throughout the process—even through his first years of teaching—he was supported by his HCDE teacher mentors.
"The team is awesome," he said. "They are truly committed educators, and they have tons of experience in all aspects of being a teacher. They helped me with the certification process, the tests I needed to pass in order to be certified, and the hours I needed to observe other teachers."
Lidia G. Zatopek, director of HCDE's Educator Certification and Professional Advancement, said the courses Lopez took to become a teacher are done in a classroom and through online settings with instructors who are content and pedagogy experts. Next, teachers spend time observing classroom teachers.
Paid teacher internships begin as teachers become comfortable within the educator setting. The one-year internships are supported through field supervisors who assist the new teachers with content knowledge and instruction skills. Teachers who agree to teach as certified teachers in at-risk schools are eligible for scholarships for tuition reimbursement through a grant.
To those considering a future in teaching, Vladimir says there is a thoughtful combination of things that make the profession worthwhile.
"I acknowledge that if you care about education, about people and you love science as is my case, then teaching is a very rewarding career," he said. "The contact with students keeps you always learning new things, and working with other teachers can be a reward too."
With a science degree, Vladimir knows the theories and principles required to teach physics. To connect with his students, however, he says he must make science important to their everyday lives. He must make science significant.
"I am lucky to teach physics," he said. Physics can connect with absolutely everything people do in their lives, from driving (or event walking), to the science behind cell phones.
"I always relate everything in my class with the world outside."
(In addition to earning the HISD Secondary Teacher of the Year Award, Vladimir also received the KBR Science Teacher of the Year in 2014, yielding a $6,000 cash prize. KBR is an international engineering firm that rewards teachers using new and effective models of instruction.)
For more information about HCDE's Teacher Alternative Certification Program, including scholarship opportunities, go to www.hcde-texas.org/teachercertification or call 713-696-1348.
Photo: HISD "Secondary Teacher of the Year" Vladimir Lopez works with students on a robotics project. (Photo courtesy of HISD Communications.)
About Harris County Department of Education (HCDE): Serving students, teachers, schools and communities throughout Harris County, HCDE is a local governmental organization providing value for school districts while supporting educational opportunity. Partnering with Harris County school districts, HCDE maximizes local resources and respond to the needs of locally elected school boards and education leaders. HCDE services include school-based therapy for students, afterschool programs, Head Start, educator training, adult education and programs to promote safe schools. To learn more about how your county department of education can help you: www.hcde-texas.org .