Recipe for Success Foundation and Chipotle Challenge Schools to Eat Their Veggies!
Schools can VegOut! in March to win a Chipotle Grant to Fund Seed-to-Plate Nutrition Education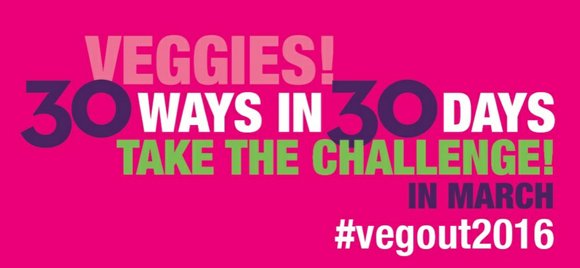 March 1, 2016. HOUSTON, Texas-- Recipe for Success Foundation's 2016 VegOut! Challenge 30 ways in 30 Days is making eating veggies a deliciously healthy, fun food adventure with their brand new, free and easy-to-use mobile App and revitalized VegOutWithRFS.Org website. Track your veg, find recipes and challenge friends, family and coworkers through the mobile App and sleek website that make "Vegging" out easy peasy!
And now to make the stakes even better, Chiptotle is awarding a winning school can win a grant to bring the award-winning Seed-To-Plate Nutrition Education™ program to their campus. Seed-To-Plate Nutrition Education™ makes healthy food fun with comprehensive experiential learning that weaves lessons in the garden and kitchen into core curriculum delivered in school or after school.
The only initiative in the country of it's scope, the chef-inspired Seed-to-Plate Nutrition Education™ program introduces children to the entire cycle of food along with taste and flavor combinations, techniques, nutrition awareness and skills that will serve them for a lifetime, and empowers them to prepare healthy meals and snacks for themselves. 30,000 children participated in our first 10 years.
"We are thrilled to help spread the message of real food and healthy eating with Recipe for Success. We know when children are hands-on with their food education they grow to be healthy consumers and Chipotle is proud to support that education," said Kelly Wisner.
Recipe for Success Foundation's focuses on changing the way we eat by making healthy eating a fun adventure, and VegOut! is a natural extension of our Seed-to-Plate nutrition education that excited families, workplaces, neighborhoods and more to eat their veggies and get rewarded by companies like Chipotle and other prize partners.
"We are thrilled to have great partners like Chipotle, that recognize the value of eating good, real food. With their grant, a new crop of students will be able to appreciate and understand healthy eating from their own school garden to their plate," said Recipe for Success founder, Gracie Cavnar.
Schools that complete the VegOut! Challenge and register on-line for the "We Love Chipotle" Award are eligible to win! The more you VegOut! the more chances you have. You can find full rules and regulations here: http://vegoutwithrfs.org/get-involved/how-to-win-prizes/chipotle-affiliate-award/
There are many other prizes for schools, work places and individuals VeggingOut like Rachael Ray cookware and Neiman Marcus gift cards! For more information, visit VegOutwithRFS.org and download the VegOut! Mobile app to register, track your progress, and find great recipes and resources. Keep up with the VegOut! Challenge on social media, by using the hash tag #VegOut2016 to see who is vegging out thisMarch.
About Recipe For Success Foundation:
Celebrating its tenth anniversary year, Recipe for Success Foundation is a non-profit 501C3 that focuses on combating childhood obesity by changing the way our children understand, appreciate and eat their food and by educating and mobilizing the community to provide healthier diets for children, with programs that have empowered more than 30,000 children in Houston and beyond with the knowledge and skills they need to lead healthier lives. The Foundation works to create a culture where nutritious food is shared, appreciated, and celebrated. Through its award-winning efforts like the nationally-offered Seed-to-Plate Nutrition Education™ in schools, Eat It! Food Adventures children's cookbooks, farmers marKIDS DAYS and the VegOut! 30-Day Challenge, and the Hope Farms urban agriculture project in Houston, the Foundation works to make healthy food appealing and available to everyone. For more information call 713-520-0443 or see www.recipe4success.org