NABJ Congratulations Rochelle Riley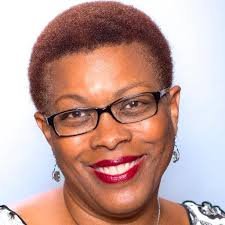 NABJ congratulates Detroit Free Press columnist Rochelle Riley on being inducted into the Michigan Journalism Hall of Fame for 2016.
The Michigan Journalism Hall of Fame recognizes reporters, editors, publishers, owners, photographers, broadcasters, educators, and others who have made outstanding contributions to the profession. It has honored journalists since 1985 for extraordinary and clearly outstanding careers.
Rochelle's award-winning columns appear in the Detroit Free Press and at www.freep.com. She writes passionately about government responsibility, education, popular culture, politics and race and has spent 15 years raising awareness about the need to improve adult literacy. She has helped raise more than $1 million for Michigan literacy causes. Rochelle also makes frequent television and radio appearances, mostly on NPR, MSNBC and CNN.
Rochelle has earned multiple first-place writing honors from the National Association of Black Journalists, the Michigan Press Association and APME. She also won a national Scripps Howard Award for her columns on the challenges of adult illiteracy. Her columns about former Detroit Mayor Kwame Kilpatrick were part of the entry that won the 2009 Pulitzer Prize in Local Reporting. She won the National Headliner Award for best column in 2013 and the Will Rogers Humanitarian Award for community service from the National Society of Newspaper Columnists in 2011. She was nominated for that award by Ron Dzwonkowski, then associate editor of the Free Press and Rochelle's editor, who was inducted him into the Hall of Fame himself in 2010.
The 2016 Hall of Fame Banquet will be held at 5 p.m. Sunday, April 17 at the Kellogg Hotel and Conference Center on the campus of Michigan State University. For information, contact Tresa Beardslee at (517) 353-6430. Tickets are $75 per person or $600 for per table (before April 3, 2016).
For more information, visit nabj.org