Nolcha Shows Mother's Day Celebration Highlighting Mom's in Fashion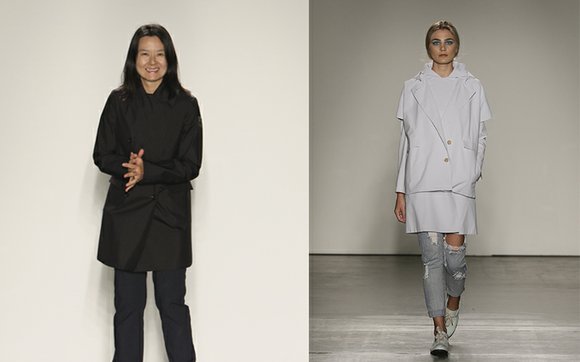 The Nolcha Shows, a leading award-winning event held during New York Fashion Week for global independent fashion designers, plans a celebration of Mother's Day by highlighting female fashion designers that are rising stars of the industry who are also Mother's, with a focus on how their children inspire their designs and careers.
June Sohn
"I want my children to see me working hard for my dream so that they can create their own dreams and build on this. I share a lot of my journey with them and they are very involved."
June Sohn, mother of two sons aged 10 and 12 years old, is the visionary behind JUNGWON designing contemporary yet timeless jackets offering a chic twist on classic outerwear. The minimalist garments offer a high quality finish that are waterproof, windproof, wrinkle free and breathable.
Being a mother inspired June to create a brand that is practical, realistic and functional; especially with easy care and that could be mixed and matched well with other layers for various occasions as she finds she is always fighting with finding time.
Today her collections provide stylish yet functional, light yet resilient raincoats, trenches and capes in neutral, vibrant and pastel hues. With a continued focus on sustainability and fair trade practices JUNGWON integrates recyclable materials and locally made in New York City collections.
JUNGWON is a compliment to any fashion commuter, stylish parent or coat lovers wardrobe.
To view the JUNGWON collection visit: http://nolchashows.dphoto.com/album/7170ez
Mimi Wong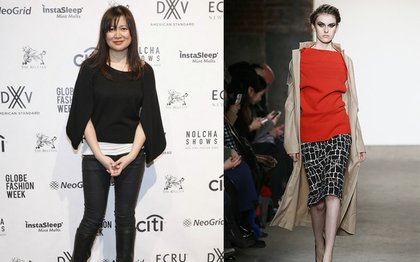 "I have the best of the both worlds! I get to be a mom and still play with clothes!"
Mimi Wong, mother of daughter 9 and son 6, founder of fashion label MINAN WONG is inspired by her children to create a sustainable brand; she wants to play a role in maintaining the Earth for them and their future generations.
Mimi's finds that being a mother motivates her to do better each day and she draws influence from her children's youthfulness and playfulness.
Audrey Hepburn stole Mimi's heart at nine years old. Inspired by her confidence and feminine strength, Mimi drew pictures of fashion she saw on movie stars and beautiful women. Growing up in New York, she dreamt of clothes she couldn't have and fell in love with Chanel, Prada, Gucci, and Valentino. Mimi sketched her way to FIT, where she designed a jacket made from a recycled IKEA rug and won the UNESCO and Felissimo International Competition; which led to her designs being shown at the Louvre in Paris and covered by Women's Wear Daily and The Daily News.
A career working for her idol Donna Karan and Eileen Fisher led Mimi to launching her own ethical fashion collection that exudes a vibrant, youthful aura and can support the strength of a woman. Designed in NYC and Made in USA the brand uses eco-friendly elements like organic cotton, Tencel, recycled wool and recycled PET. All pieces are made in the US for fair wages and support the local economy, so customers can look great without feeling guilty.