2016 Houston Livestock Show and Rodeo Proves Fourth Largest City is Rooted in Western Tradition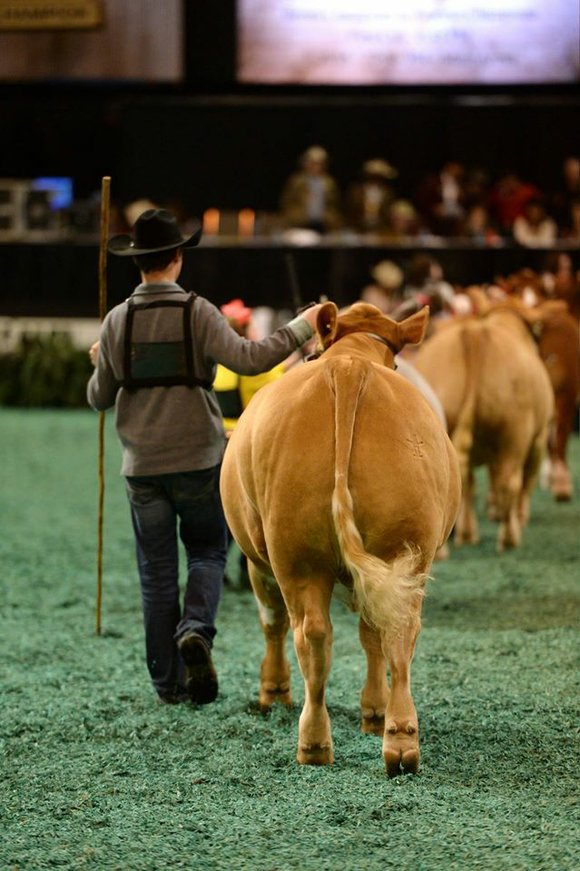 The 2016 Houston Livestock Show and Rodeo entertained more than 2.46 million visitors in total attendance with an authentic celebration of Western heritage.

"Thanks to more than 32,000 dedicated volunteers and 100-plus staff members, the Houston Livestock Show and Rodeo is proud to present a first-class experience for its more than 2 million visitors," said Jack Lyons, Houston Livestock Show and Rodeo chairman of the board. "Show spectators receive an up-close view of agriculture and Western heritage at this one-of-a-kind event."
2016 HIGHLIGHTS:
ATTENDANCE
· Total attendance for all activities on the grounds was 2,462,030.
o The World's Championship Bar-B-Que Contest entertained 247,491 people, Feb. 25 – 27.
· Paid Rodeo/concert attendance reached 1,345,983 fans, ranking third in paid rodeo/concert attendance.
o Two of the 2016 RodeoHouston® performances landed in the list of the Show's top 20 paid rodeo/concert attendance records.
first: March 13, 2016 – Banda Los Recoditos and Los Huracanes Del Norte – 75,508

11th: March 10, 2016 – Luke Bryan – 75,082
RodeoHouston
· RodeoHouston committed $2,172,100 to its contestants in 2016, including the RodeoHouston Super Series and RodeoHouston Super Shootout®, presented by Crown Royal, purses, plus appearance fees.
· The 2016 RodeoHouston Super Series invited the world's top rodeo athletes to compete in seven events, March 1 – 19.
o Rodeo athletes competed for a share of $1.74 million in prize money. Each event champion walked away from NRG Stadium with $50,000, plus his or her winnings from the preliminary rounds.
o 2016 RodeoHouston Super Series Champions, with total money earned, are:
Tie-Down Roping: Tyson Durfey – Weatherford, Texas – $55,750

Bareback Riding: Kaycee Feild – Spanish Fork, Utah – $56,750
· four-time RodeoHouston Champion: 2012, 2014, 2015, 2016
Team Roping: Clay Tryan – Lipan, Texas, and Jade Corkill – Fallon, Nevada – $110,000 ($55,000 each)
· Jade Corkill – 2008 RodeoHouston Champion
Saddle Bronc Riding: Clay Elliot – Nanton, Alberta, Canada – $55,500

Steer Wrestling: Dakota Eldridge – Elko, Nevada – $56,750

Barrel Racing: Mary Burger – Pauls Valley, Oklahoma – $54,750
· 2009 RodeoHouston Champion
Bull Riding: Sage Kimzey – Strong City, Oklahoma – $56,000
· 2015 RodeoHouston Champion
· The RodeoHouston Super Shootout®: North America's Champions, presented by Crown Royal, was held Sunday, March 20, 2016.
o This one-day event featured champion athletes from eight of the best rodeos in the U.S. and Canada.
o Contestants competed as individuals, and as part of a team consisting of event champions from each of the eight rodeos.
o Contestants competed in bareback riding, barrel racing, bull riding, saddle bronc riding and steer wrestling.
o With a total purse of $250,000, the Super Shootout is among the richest one-day rodeo events in the world. Each event champion earned $25,000.
o 2016 champions, with the rodeos they represented, are:
Bareback Riding: Austin Foss, Terrebonne, Oregon – Team San Angelo Stock Show and Rodeo

Barrel Racing: Lisa Lockhart, Oelrichs, South Dakota – Team Calgary Stampede

Bull Riding: Aaron Pass, Kaufman, Texas – Team Cheyenne Frontier Days

Saddle Bronc Riding: Cort Scheer, Elsmere, Nebraska – Team Calgary Stampede

Steer Wrestling: Nick Guy, Denver, Colorado – Team Cheyenne Frontier Days

Super Shootout Team Award: Calgary Stampede