Air Force One Introduces Game Improvement Irons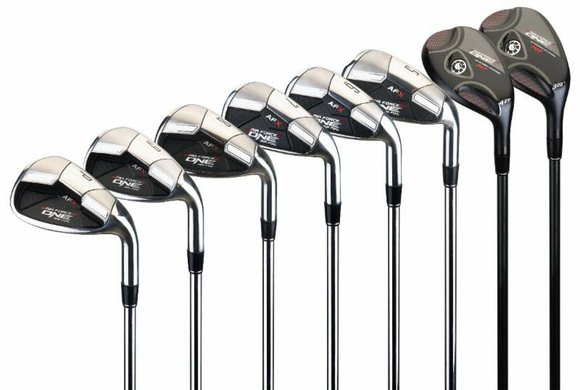 Air Force One has unveiled its AFX Game Improvement iron set.
The new set follows similar modifications to that of the popular AFX Pro Series irons. Thinning the top line and sole give it the forgiveness of its predecessor, with workability that also appeals to better players.
The AFX Game Improvement iron set consists of three different clubheads within the set. The two longest clubs, the 3-4 Nitrogen Charged hybrids, feature 17-4 stainless steel heads that are internally pressurized with Nitrogen. They also sport FFT Face Flex Technology that helps power the ball by flexing inward at impact before springing forward to catapult the ball at a high velocity.
The 5-7-irons feature Nitrogen Charged, 431 Stainless Steel clubheads that are hollow inside -- delivering more forgiving power and a solid feel. The clubface is oversized, and the heads have a progressive offset that helps golfers get the ball airborne easier.
The 8-iron through pitching wedge are cavity-back, 431 Stainless Steel clubheads with a deep undercut cavity that helps ease the ball into the air for consistent distances. As with the mid-irons, each clubface at this end of the set is oversized, and the heads also boast a progressive offset that helps golfers get the ball airborne easier. In fact, they're designed for optimum trajectory.
"One advantage we have with this set compared to the competition is our Nitrogen Charged Technology," says AFO President Ross Kvinge. "This lets us create the ultimate performance game-improvement iron. We progress from the hard-to-hit long irons utilizing hybrid technology, then utilize a hollow pressurized cavity for the mid-irons. And for the accuracy of the short irons, we offer them in a cavity back. This is a combination that most golfers will enjoy and benefit from."
Nitrogen Charged Technology uses nitrogen gas inside a hollow-back iron supported by 50 pounds of pressure. This allows Air Force One to create a super-thin face with no internal bracing - creating an enormous sweet spot with no hot or dead spots. It creates incredible consistent ball flight and distance from club to club.

About Air Force One - Air Force One's mission is to make the game more enjoyable through our patented Nitrogen Charged Technology. Air Force One was born in America in 2009 and has achieved multiple consumer awards from major golf outlets such as MyGolfSpy and Golf Digest's Hotlist and is sold worldwide. Air Force One prides itself on its custom fitting and consumer guarantee (30-day performance guarantee) to ensure ultimate consumer performance and satisfaction on the course. Air Force One provides one of the largest selections of OEM shaft choices and custom fitting options.