Council Member Travis to Fund Substantial Renovations to S. Kirkwood Road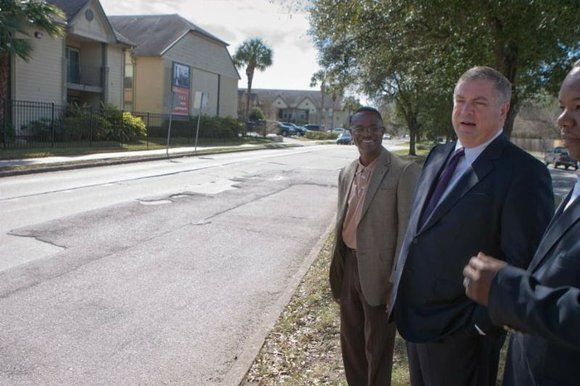 Council Member Travis has submitted a request to use approximately $300,000 of his Council District Service Fund (CDSF) to conduct rehabilitation work on S. Kirkwood Rd.
The request would cover minor roadway repairs in the 11500 block of Riverview and in the 1500 block of S. Kirkwood @ Lakeside Place (removal and replacement of 8"-10" concrete slab, 6" base and 6" curbs).
Much more substantial concrete panel replacement will be conducted in the 1700-1900 blocks of S. Kirkwood Dr. (removal and replacement of 8"-10" slab, 6" base and 6" curb, saw cut in the northbound esplanade and gutter lanes, and replacement of nearly 11,500 cubic feet of concrete).
Finally, the proposed rehabilitations will include utilization of approximately 2" of lift and stabilization using the Uretek Method, also known as polymer injection, in areas of excessive panel lift, subsidence, or separation. This is the first time this new road rehabilitation technique will be used in Houston; it has been successful in several other cities. Just over 3,000 cubic feet of this new material will be injected under the roadway in the range of 1936-2022 S. Kirkwood Rd. to bring the separated panels back into grade and alignment.
Council Member Travis would like to thank the Public Works & Engineering Department, especially Eric Dargan, Deputy Director of the Street and Drainage Division, and Diane Lowery-Binnie for their assistance with this project.