Family Of Graduates Goes Viral & Inspires The World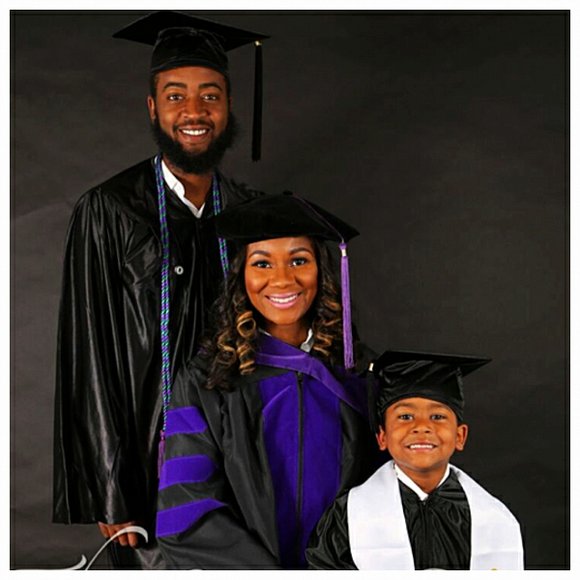 Sometimes posting things on social media you hope that your friends and family see it…and sometimes even your exes, lol. But little did this one family – a husband, a wife and their son – know that when they posted their soon-to-be crowning achievement of graduation, that they would be inspiring generations to come.
In the photo above, Shenitria "Nitra" Myles shared on Facebook a family photo of herself, husband Mario and their 5-year-old MJ posing in caps and gowns. She captioned the photo with:
"Mario: Masters of Special Education (May 7)
Nitra: Juris Doctor (May 21)
MJ: Kindergarten (May 23)
In an interview with YBF, the hardworking student, mother and wife detailed obstacles they overcame to earn their degrees. "I became pregnant with our son my sophomore year in college," she said. "It was a trying time because we attended Xavier in New Orleans and had no family within the area, the closest was 7 hours away."
She continues with, "Every day was a new learning experience and everyday we pushed one another so that we could still achieve the goals we had set."
And if that's not enough, the couple also wrote a book! Balancing Adversity, which is now available on Amazon, is a 29-page digital book that the soon-to-be lawyer (in less than two months) tells us isn't your traditionally organized book. Instead, it's "inspirational reading that will have specific headings that you can turn to at different stages of your life."
She says the book, where her husband serves as editor, is not in perfect order because life isn't in perfect order.
For more information go to http://www.blackdoctor.org