Harris County Precinct One officially starts debris removal project in Houston neighborhoods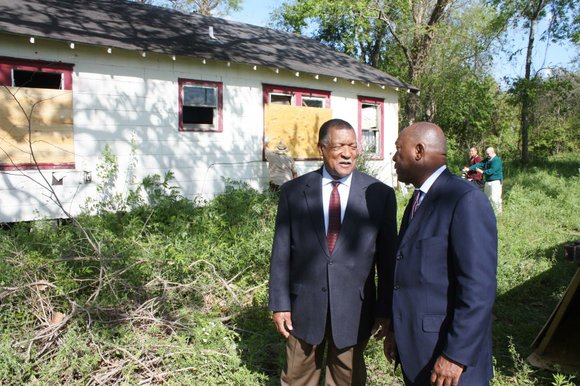 Harris County Commissioner Gene L. Locke, joined by Houston Mayor Sylvester Turner, on March 22 officially kicked off Precinct One's debris removal program minutes before county workers removed illegally dumped trash and boarded up an abandoned house.
The cleanup of a lot in the 1300 block of W. Little York Rd. in Houston's Acres Homes community is another step in Commissioner Locke's initiative to partner with the City of Houston to improve the condition of neighborhoods in Precinct One and the city limits. "That quality of life is impacted directly and impacted indirectly by debris that you see here," Commissioner Locke said, pointing at a pile of trash in the front yard. "This kind of debris troubles neighborhoods throughout Houston and Precinct One. And by working together, we think we've come up with a way to give taxpayers a better bang for their buck by more efficiently and more effectively tackling the issue of public nuisances like this."
Mayor Turner said the county's work will help the city clean 600 lots throughout Houston.
"This is enhanced cooperation," Mayor Turner said. "This is a transformative day between the city and Harris County where we can do a lot more of these type of things in the future."
City officials used the civil-court process to have the 600 lots declared public nuisances, which allows government workers to enter private property to remove blight and improve the safety of the immediate area. If necessary, abandoned structures will be boarded up.
In addition, the abatement program involves Precinct One crews and contractors mowing grass and weeds, and removing illegally dumped trash on public rights of way in Houston.
Commissioner Locke said the Precinct has a $750,000 budget for the project, which will target the properties on the list provided by the city. "We are going to hit as many properties as we can," he said. "We will do as much as we can with the money we have. And remember the city continues to do this using its resources."
Mayor Turner said the odds of taking care of all 600 would be remote if the city had to clean the lots by itself.
"But with the county participating," he said, "… I can safely say these 600 lots will be addressed in real time."
Precinct One will maintain the properties for several months while looking for opportunities to partner with residents who may be asked to assist the Precinct with the location's upkeep and report new incidents of dumping or neglect by calling Commissioner Locke's office at 713-991-6881.
Along with the debris removal program, Commissioner Locke has proposed other joint projects with the City of Houston, including repairing streets leading to NRG Park and building sidewalks near schools to give children a safer route.
"At a time when resources are scarce, it makes sense for the county and city to work together to enhance the lives of all citizens," Commissioner Locke said.